By Hajar Rifai
Maja Burza was 10 years-old when she became a Marvel superfan. It happened after she saw her first Spider-Man movie. Seeing superheroes who have the same struggles and experiences as ordinary people makes her feel closer to the characters.
"Everyone needs a superhero," Burza said. "I think that it's important for people to have a good role model to look up to."
Being able to rewatch the Marvel movies takes Burza back in time to her favourite memories of seeing them for the first time. She said that for her, these movies are easy to relate to, give a sense of empowerment but also provide good role-modeling for young girls.
"Seeing heroes who look like you and portray you in a strong way feels very empowering," Burza said.
Since 2007 Marvel Studios has released and produced 31 films with 11 more in various development stages. It has evolved into the highest-grossing film franchise of all time taking in more than $28.7 billion at the global box office. It's not just in film. There's Marvel video games. Marvel cartoons. Marvel comic books. And the Marvel machine keeps churning out story lines and new twists on iconic characters.
Brie Larson will star in the second Captain Marvel film later this year. Burza said that by Marvel releasing movies that have strong female lead characters, it allows little girls to look up to them and call them their favourites.
She rewatches the movies often because of the nostalgia and familiarity.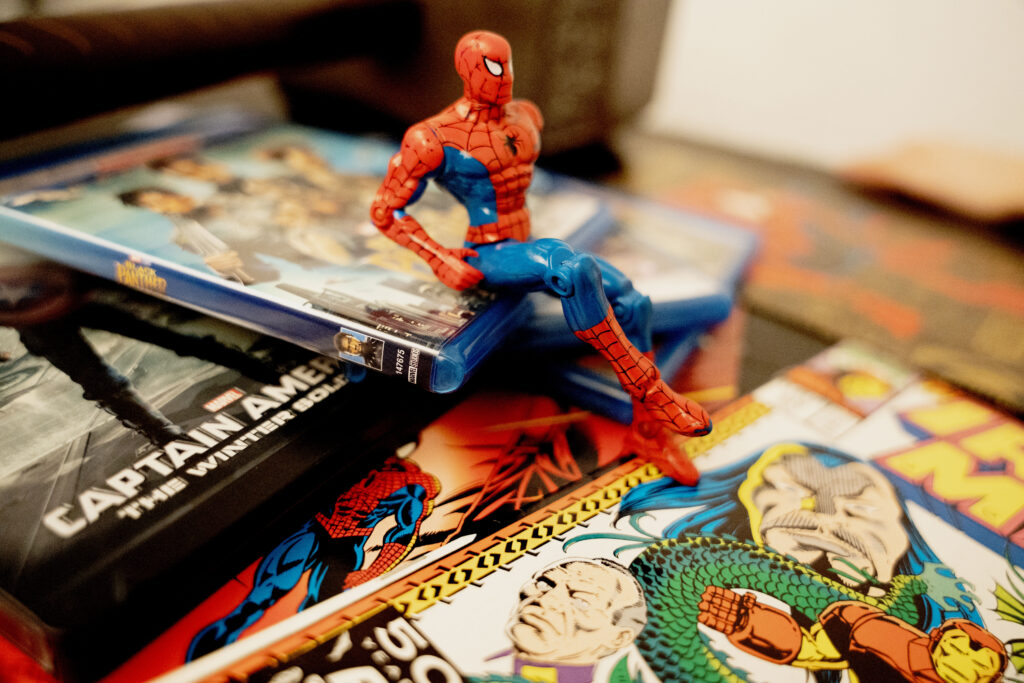 It's not uncommon to find Burza playing the movie in the background while she does other things to relieve stress. The more she watches the characters overtime, the closer she feels to them and builds a connection.
"I feel like people tend to rewatch shows or movies they've seen before, just because they know what happens in terms of the plot, but also how they feel during it."
It can almost feel like less of a commitment to rewatch movies or shows, Burza said, because she knows what's going to happen compared to watching something new.
Burza said that the movies also help understand the struggles of navigating life as a teenager too.
"Films that depict real human struggles can help show people how to overcome them," Burza said. Like in Marvels Eternals (2021) because it was the first Marvel film to introduce a LGBTQ+ superhero.
"You see the heroes go through real life problems. For example, Thor's experience with loss and grief, Iron Man experiences with anxiety and PTSD. And then Spider-Man's struggle is probably just being a teenager," Burza said.
Iron Man (2008) introduced the topic of terrorism. The Falcon and The Winter Soldier (2021), Marvel's Disney Plus show, explored systemic racism and Black Panther's entire lead cast was Black.
PhD candidate Erika Chung, who specializes in research on comic book (movie) fan culture, race, and gender at Toronto Metropolitan University, said that the reason why Marvel movies have such a cult following is because superheros have "endured the test of time" and they relaunch and rebrand in a way and they get re-exposed to another generation of audiences and readers.
"You have a generation of fans and viewers who started when they were young. And they've been watching since they were kids and as they've grown up," she said.
Chung said she still watches Spider-Man because of the nostalgia, remembering that familiar feeling from when she was a little kid.
"The thing that superhero movies do really well. Maybe this was probably credit to Disney more than anything, is that they get you young, and then you kind of grow up with them over time," said Chung.
She said that social media contributes to fan communities. People run "fan accounts" dedicated to their favourite characters or movies and it helps maintain the attention on the characters and movies.
The Psychology Behind Superhero Origin Stories by Robin Rosenberg notes the different stages of superhero movies and why every superhero film is an "origin story." The writer said that origin stories teach people how to be heroes and not "super," and that they "choosing altruism over the pursuit of wealth and power."
Rosenberg said superheroes go through three types of life-altering experiences that us viewers can relate to.
The first is trauma because when people experience trauma or stress, they usually want to help others who experience the same.
Next is destiny. People relate to the destiny storyline because many viewers "identify with assuming a great responsibility that compels them to grow up sooner than they want to," Rosenberg said.
Last is sheer chance. Rosenberg said that "random adverse events cause many of us to take stock of our lives and choose a different path."
The Numbers All Time Worldwide Box Office for Superhero Movies, shows that in the top 10, 9 Marvel films had more successful movies in the box office, compared to DC who has one in the top 10 ranking number 9 which is the 2018 Aquaman. In the Lifetime Grossess Marvel has 4 out of the top 10 movies, with Avengers: Endgame (2019) ranking 2nd.
Many superhero characters have had the chance to be relaunched in new media forms for the next generation to see: Superman, Batman and Spider-Man are just a few to have succeeded. Spider-Man: No way Home has done something no other superhero film has done, and that was incorporating the three different versions of the hero in one film, combining older and new generations together.
Although the films touch on important topics to raise awareness, Professor Dave Kirsh, who teaches the course The Science of Superheroes at Humber College believes that the films try their best to raise attention to issues, but ultimately shouldn't be people's number one source for awareness.
"It's not always the best medium for it," he said. "They can't really go super in-depth on the interesting or difficult issues that we face."
"I would highly encourage everyone to go and read a little bit more. Because oftentimes, the full picture is more complicated than what can be put into a two and a half hour movie," Chung said.
Kirsh said Marvel movies provide a sense of escapism to viewers, especially those who watch them in theaters.
"The reality is that action movies have always been popular, that people have always been drawn to spectacle. And frankly, it's one of the main reasons to go to a movie theater and spend your hard earned money on a movie," he said. "I suppose to some extent, the additional wish fulfillment element of superheroes might be of benefit as well."
A 2017 media study by Lucas Neilsen said that there is a therapeutic benefit to the Marvel Cinematic Universe being shown as one overarching story with multiple episodes. The heroes, which are influenced by each loosely connected film, often experience problems audiences can relate to. Nielsen noted that these films can depict characters dealing with anxiety, and post-traumatic stress disorder.
In Iron Man 3 (2013), we see the hero face mental health issues from the aftermath of the Avengers final battle by experiencing panic attacks.
Nielsen highlighted that people resonate and give meaning to what they see the heroes overcome and it then becomes easier for them to handle the problem they face in real life.
Burza remembered the first time she got to see all three Spider-Man in one movie.
"I started screaming," she said. "But it was fine."
"Everyone in that movie theater had the same reaction as me. It was one of the best experiences I had. It was like we were all watching a movie as a family. Everyone was so into it."