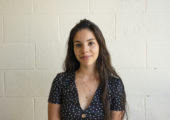 Beatriz Balderrama Baleeiro |
If you ever catch yourself staring at airplanes flying in the sky until they disappear into the distance, if you have ever looked at a world map and felt like something was calling you, your answer might be here.
Imagine yourself in a classroom in Athens, looking out at the blue-skied Acropolis perched on the top of a hill to the south.
The idea of leaving everything behind for a new life in another country seems terrifying and impossible.
Brianna Voug, took her own advice, she's a promoter and Peer Advisor for the summer abroad program at University of Toronto. It's her mission to help students research and plan to study in another country.
"This past summer, I went to study abroad in Italy. Being immersed in a new culture and way of life inspired me to reflect on how I have lived my life up until going abroad and how this has impacted what I do, believe and expect of others and myself."
In fact, Voug says, "Studying abroad has made me become more adaptable and pushed me to make every day count."
A report from The Study Group on Global Education estimates that "11 per cent of Canadian undergraduates study abroad during their academic career – significantly fewer than students from France (33%), Australia (19%) and the United States (16%).
And, while traveling abroad isn't possible this summer, it's a good time to hang that world map on your bedroom wall and start planning and dreaming.
The preparation can be the most stressful element of the entire journey, so people like Voug, who have been there and done it, can help with the decision making and the logistics.
Once you have found the course, the real work begins: organizing the documentation for a visa, papers for the government, writing application letters, researching as much as you can about your destination, knowing what to do if you have any health emergencies, and of course packing.
Donal McAlister, International Affairs Manager at the Institute of Technology, in Carlow, Ireland, puts it this way:
"It is hard to overstate the value of the Study Abroad experience. In this increasingly globalized world, it is becoming vital that graduates don't just demonstrate a strong academic background but also that they can be flexible in an intercultural environment."
McAlister says, "Students should weigh the huge benefits that can be achieved in addition to the academic qualification that they will get."
Louis Butt, a promoter and Peer Advisor at UofT, uses his personal experiences to sell students on the idea of study abroad.
Butt decided to study in China, an uncommon choice for a North American student, where the language, culture, and cuisine barriers can scare some people who are not as open-minded as he was when choosing his destination.
He has also studied abroad Central Europe as well."Each time, I found that to truly extract the most knowledge and to have the best moments, I needed to enter a sort of contract with the environment I was in," Butt says.
"If I gave the courses the best, most proactive version of myself, I'd be rewarded with uniquely enriching experiences and memories to cherish forever," Butt says.
Going to another country for academics or to learn a new language is only a small part of what this experience can bring. Immersing into another culture helps you understand the world and can also make you a more empathic human being.
"The culture shock was real," Butt says. "Being on the ground in a culture which undertakes everyday operations differently than back home feels unlike anything else."
"Besides the obvious hurdles such as the language barrier and culinary discrepancies, and the technical aspects like payment methods, being completely culturally disoriented is thrilling,'' Butt says.
Traveling abroad is not only about learning a new language, you could also go somewhere to learn about their history, religion, cuisine and even teach people in the host country something about your own culture.
"In China, there is no shortage of such experiences," Butt says. "For someone less comfortable with trying new things on a whim, such as food or the nightlife, the whole affair can be daunting."
Don't let that dissuade you, "I firmly believe that as long as a harmless experience can contribute to personal growth, there is no real excuse not to take part in it," Butt says.
Deciding where you want to go is a very private decision, and somebody else's interference is not recommended. Nobody knows your goals and what you would like to get from this experience better than you do.
McAlister agrees, "From a social perspective there is the opportunity to travel, see the sights of Europe, and make lifelong friends. In a world that appears to be getting more polarized in its opinions, the study abroad experience allows students to see for themselves what things we all have in common as well as celebrating, rather than being fearful of the differences between us."
Another reason for studying abroad is the Canadian overexposure to the American culture and other commonwealth countries, experiencing countries. Experiencing countries with a contrasting culture and different ways of life and social conventions can be a beneficial experience to improve critical thinking.
That's why Canadian universities and colleges are developing more opportunities for Canadians students to go abroad.
McAlister says, "Sometimes students have particular personal issues that can arise which may curtail their studies but in general the experience is something that they hugely enjoy and value."
There are many opportunities to get information about the experience before leaving Canada either through digital and social media, campus visits by representatives, local offices such as KOM (Canada's Free Guidance and Support to Canadian students seeking study opportunities in Australia, Ireland, England, Scotland, and Wales)
"Students get plenty of chances to see what to expect before departure so it's not usually a major shock to the system when they arrive," McAlister says.
But, adaptation takes time, it's not a process that can be accelerated, but it doesn't mean that you must do it alone.
McAlister adds, "It is important that students feel welcome when they come to Ireland and we give a very comprehensive International Induction and Orientation program to ensure that they understand their new environment in a fun way."
Experiential learning is not always an easy adventure because your family won't always be present to guide you through this journey. But it will be worth it.