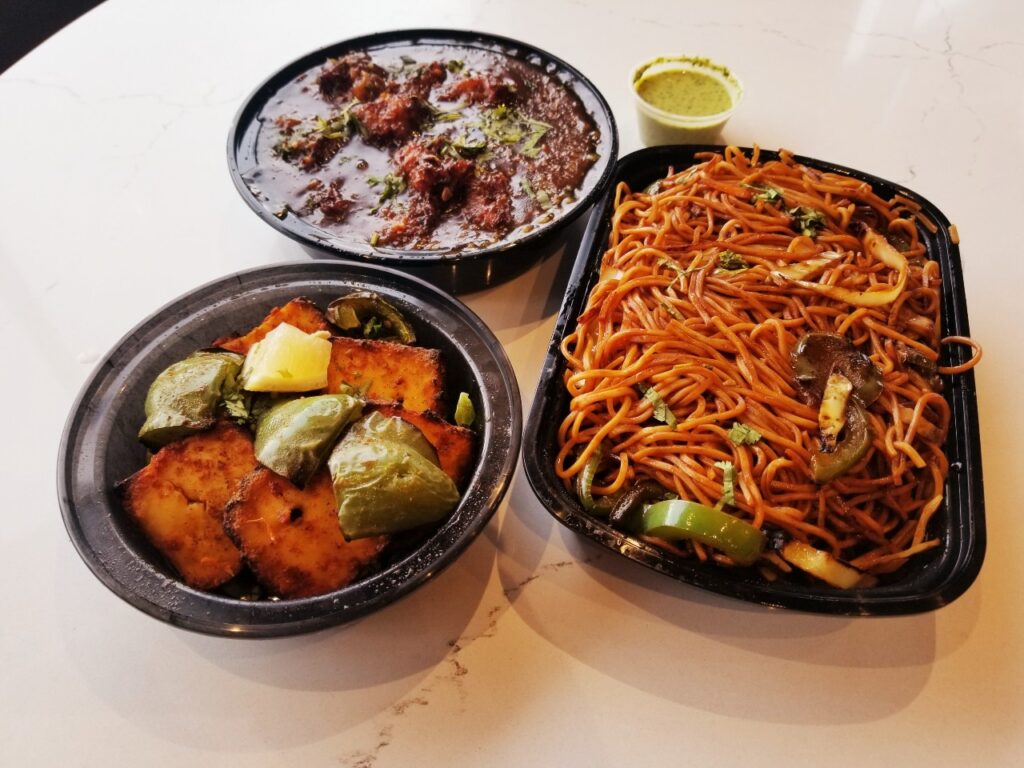 By Ayesha Raizada
As the global pandemic continues, a lot of people are turning to their kitchens to cook a lot more. We all love convenient food, but to stay healthy we need to replace processed food with real, nutritious food. Eating a home-cooked meal is the simplest way to retain good health as fast food can be unhealthy and is often high in fat, calories, added salt, sugar and preservatives.
Cooking has become a newfound hobby for those who were short on cooking time before the pandemic restrictions. Many have now rediscovered their kitchens for healthy options.
Kelly Shields and Freddy Ruiz are a couple from Toronto who share a passion for cooking different recipes and sharing their experience with friends.
"Pre-pandemic, we often ate at local cafes and restaurants, sometimes for all three meals. We were short on cooking time, rushing to the gym, yoga, or to eat out with friends. Eating out seemed like an easy win," Kelly said.
Since the pandemic hit, they spend more time at home, cooking together and trying new dishes while experimenting with new and different foods.
The couple comes from a mix of cultures – Kelly is half Chinese, half English Canadian and Freddy is Venezuelan – they eat a broad range of food.
"We often cook meals with origins from different areas of Asia, South America, Europe and North America," Kelly said. "We like sharing different foods with each other that we haven't tried before and are always open to trying new dishes."
Arsheen Chopra is a university student, living with her roommates. She is now cooking more than ever. The pandemic has encouraged her to cook a lot at home. Arsheen loves cooking all kinds of cuisines, however home cooked Indian and continental foods are her favorites.
Kailash Parbat is an Indian vegetarian fine-dining restaurant in Mississauga specializing in Asian and continental food. Manager Abhinav Aggarwal shares a few recipes straight out of their kitchen.
He said that the pandemic has really wrecked the hospitality and food industry. Plans to launch a new food and mocktail menu have been put on hold as the pandemic continues. Dine-ins and patio seating are closed; only takeout restaurants are open.
Nevertheless, he is happy to share one of the restaurant's appetizer and main course dishes for everyone who loves cooking and wants to try it at home.
Vegetable Noodles:
Instructions:
Put 6 cups of water in a large pot, with 1 tsp salt and 1 tsp oil. Once the water comes to a boil, drop in a pack of Hakka noodles (125 g).
Boil the noodles for 3 minutes or until they turn al dente. Drain off the water from the noodles and pour 1 cup of cold water to prevent further cooking.
Drizzle 1 tsp oil and mix gently, to prevent noodles from sticking to each other, set aside.
Now in a large skillet heat 2 tbsp oil and sauté 2 cloves garlic, 1 inch of ginger and 1 chilli. Add ½ onion, 2 tbsp spring onion on high heat.
Add ½ carrot, ¼ green bell peppers, 5 snow peas, 5 beans, chopped, ¼ red bell pepper and 5 florets of broccoli.
Stir fry on high for 2 minutes or until veggies are cooked yet retain their crunch.
Add 3 tbsp of chopped cabbage and stir fry, add 2 tbsp tomato sauce, 1 tbsp soy sauce, 1 tbsp vinegar, 1 tbsp chilli sauce, ¼ tsp pepper powder and ½ tsp salt.
Stir fry until sauces are well combined. Add in boiled noodles and mix gently. Toss and mix until noodles are cooked completely. Finally, garnish with spring onion.
Kelly and Freddy cooked the vegetable noodle recipe from Kailash Parbat's kitchen and loved the taste and aroma. Veggies are healthy and the sauce used to prepare the recipe gave the dish a flavourful, tangy, spicy taste. She said it was easy to cook, Freddy helped her chop vegetables, and they had a great time cooking this dish for dinner on the weekend.
Another mouth-watering main course recipe from Kailash Parbat's restaurant is a popular continental dish.
Vegetable Manchurian
Ingredients for Manchurian balls:
1 carrot, grated, 5 tbsp cabbage shredded, 5 tbsp spring onion chopped, ½ onion, finely chopped, ½ tsp ginger garlic paste, 1 tsp chilli sauce, ½ tsp salt, 4 tbsp all-purpose flour, 4 tbsp corn flour, oil for frying.
For gravy:
2 tbsp oil, 1 inch ginger finely chopped,3 clove garlic finely chopped, 1 chilli slit, 4 tbsp spring onion chopped, ½ onion finely chopped, ½ bell peppers sliced, 2 tbsp vinegar, 2 tbsp soy sauce,1 tsp chilli sauce, 2 tbsp tomato sauce, ½ tsp pepper powder, adjust salt as per taste, 1¼ cup water. For slurry: 2 tsp corn flour, ¼ cup water.
Method:
In a large bowl take 1 carrot grated, 5 tbsp cabbage shredded, 2 tbsp spring onion chopped, ½ onion finely chopped, ½ tsp ginger garlic paste, add 1 tsp chilli sauce, ½ tsp salt, mix well, add 2 tbsp all-purpose flour, 2 tbsp corn flour and mix well to form a soft dough.
Prepare a small sized ball and deep fry in hot oil keeping the heat on medium. Stir occasionally, until the balls turn golden brown then drain and set aside.
Now, in a large wok, heat 2 tbsp oil and sauté 1 inch ginger, 3 cloves garlic, 1 chilli and 2 tbsp spring onion, add ½ onion and stir fry on high, add ½ bell peppers and stir fry until it shrinks slightly.
Add 2 tbsp vinegar, 2 tbsp soy sauce, 1 tsp chilli sauce, 2 tbsp tomato sauce, ½ tsp pepper powder and ¼ tsp salt Stir fry making sure all the sauces are well combined.
Add in 1¼ cup water and boil on medium.
In a small bowl take 2 tsp corn flour and ¼ cup water, mix well forming a lump-free slurry.
Pour in corn flour slurry and mix well, continue to boil until the gravy thickens and turns glossy.
Add in prepared veg Manchurian balls, 2 tbsp spring onion and mix well.
Serve Veg Manchurian gravy with fried rice / plain rice.
Raman Singh, chef at Sanjhi Rasoi restaurant in Brampton said they specialize in many Asian and continental vegetarian dishes like paratha, Manchurian balls and vegetable biryani recipes.
Singh said that COVID-19 has had a huge impact on restaurants. "Families are not turning out for dine-ins or takeout. People are using third party apps like Uber eats and Skip the Dishes which takes away a good proportion of the revenue (about 33 per cent) from each order, leaving the restaurants with nothing."
Raman said he is pleased to share his restaurant's most popular recipe with customers or anyone who likes to cook at home. Vegetable biryani is an aromatic, bold, flavourful Indian rice dish cooked with mixed veggies, herbs, and spices. It's spicy, light, and super delicious.
Instructions:
Soak 1 1/2 cups Basmati rice for 20 minutes.
Heat ghee/ clarified butter in a non-stick pan. Add cumin seeds, peppercorns 4-5, green cardamoms 3-4, cloves 3-4 and bay leaves -2, mix and sauté for 30 seconds.
Add cauliflower florets 8-10 pieces, French beans chopped 5-6 pieces, 2 medium carrots peeled and chopped, and 2 green chillies slit and mix well.
Add 1/4 cup green peas and mix well. Add rice and salt and mix lightly.
Add 3 cups of water, mix, and bring to a boil. Cover and cook on low heat till rice is done.
Serve hot, garnished with a coriander sprig.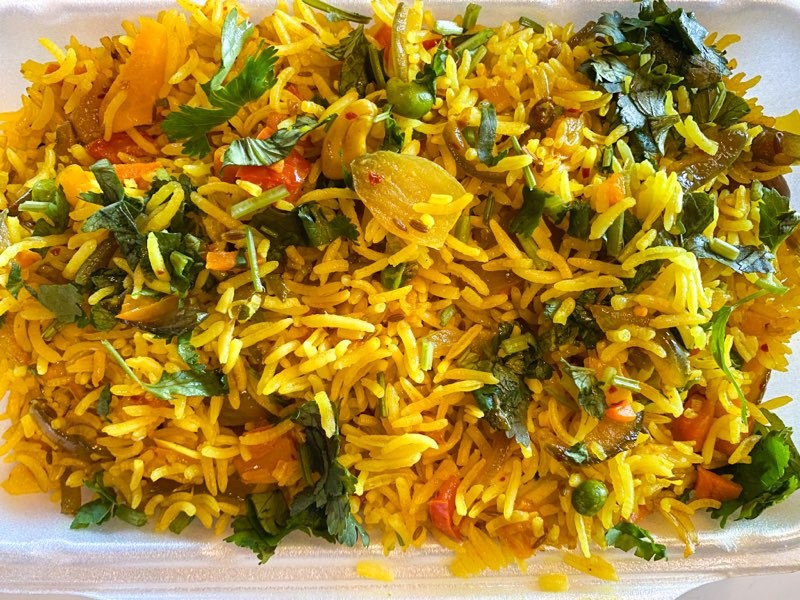 This recipe is rich in calories, carbs and has 30 g of protein for good health.
Arsheen tried the vegetable biryani recipe from Sanjhi Rasoi and loved that it was simple and easy to cook. She followed the stepbystep instructions and was delighted to see the result. She and her friends enjoyed the weekend dinner.
Arsheen plans to cook this simple recipe often as it's timesaving, filling and super delicious.
Home cooked food is nutritious and culinary skills are not as challenging as we think when the end result is satisfying and rewarding.