By Sarah Hurtado
Dayanna Gutierrez is a 21-year-old student at Trent University who has struggled with social media and the negative effect it has had on her mental health. She now forces herself to take breaks more often than she used to.
"Every once in a while, I'll be reminded that the ideal body type isn't necessarily the one that I have," she said. "She's just your stereotypical tall, blond, blue eyes or whatever, it does kind of feel bad. I'm reminded that's still the standard and I don't fit the standard."
During her teenage years Gutierrez found that her use of social media was almost excessive. She spent hours on her phone and noticed her insecurities over her body would become worse. They eventually escalated into self-esteem issues.
A report made by Common Sense Media, a non-profit organization that provides entertainment and technology recommendations for families, found teens aged 13 to 18 consume an average of seven hours of non-academic daily screen time.
Rosa Cervantes is a psychologist and counselor with more than 20 years of experience in helping young women and teens throughout her career.
She said that adolescence is a very important passage in life. It's a moment where teens define their place in the world.
"We compare ourselves, we have our eyes placed in the outside world," said Cervantes, "This means that we can be influenced by what we see in virtual reality, so when you are young, the use and purpose that you give to social networks can determine how you see the world at that moment."
Cultural norms and social expectations also play a role in defining mental health disorders, she said. If teens are spending too much time on social media, Cervantes said it can cause feelings of 'inadequacy and worthlessness.
"Young women are especially vulnerable to beauty standards in social media," she said. "When a young woman does not have an environment where she feels valued for who she is, she will compare herself to others and minimize what she has materially."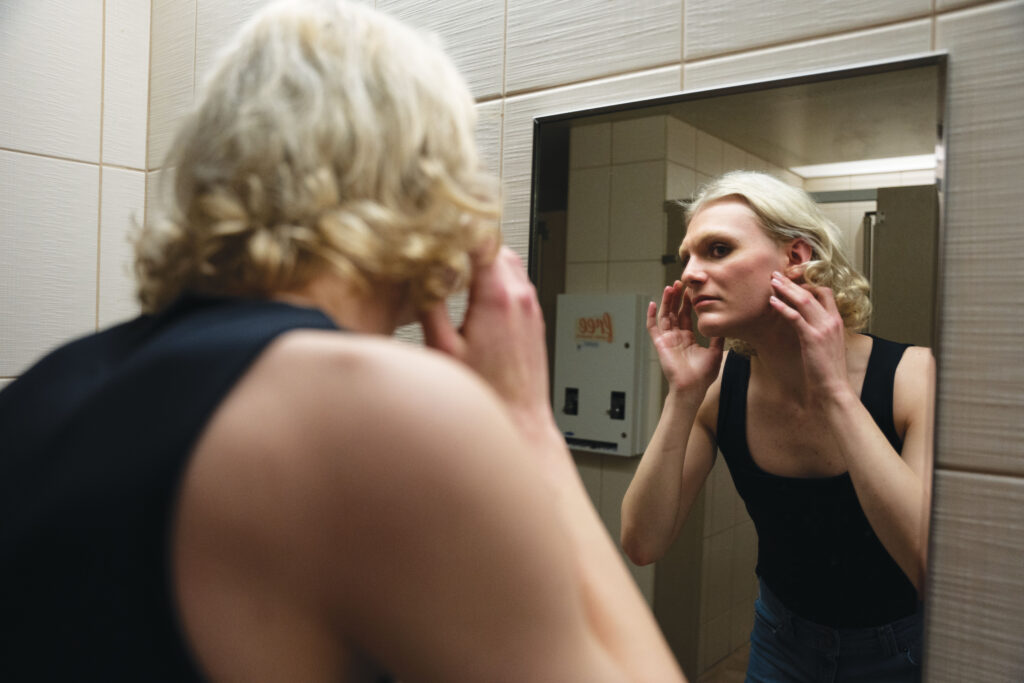 "It is important to have life experiences outside of virtual reality such as sharing with friends, having tutors and a family environment willing to welcome us when we need it," Cervantes said.
In the early 1990s, Victoria's Secret became the largest lingerie retailer in the United States, setting multiple global fashion and beauty trends throughout the years.
A controversial 2014 advertisement by the lingerie empire depicted several models that all had a similar physique: tall, white, thin women with long and beach-wavy hair. The words "The Perfect Body" in front of them.
The advertisement caused so much uproar that three teenage girls in the United Kingdom started a petition for the campaign to be changed.
The petition called "Apologise for, and amend the irresponsible marketing of your new bra range Body" claimed that the advertisement "perpetuates low self-esteem in women who are made to feel that their bodies are inadequate and unattractive because they do not fit into a narrow standard of beauty." It also said that it "contributes to a culture that encourages eating disorders and a negative body image."
Over 32,651 people signed the petition and resulted in Victoria's Secret changing the slogan to "A Body for Everybody."
"The problem becomes when our bodies, our body parts, become a trend," Alena Papayanis, a Humber professor for the course Pop Culture: Shaping How We Live said. "That is inherently a problem because the vast majority of our bodies do not fit whatever that ideal is for the time."
Social media is still very much centered around the male gaze, the white gaze and the straight gaze, Papayanis said.
"[It is] the one that gets promoted and probably pushed forward by the algorithms and all the likes," she said. "Even though somewhere in our mind, we know there's filters involved and we're not seeing them."
Papayanis said that social media is made up of peoples' highlights and since humans have the tendency to compare, social media is especially dangerous for younger people.
"Younger people are still figuring out who they are and don't have a strong sense of self to not be swayed by those trends," she said.
Facebook, the parent company of Instagram, conducted a report in which they analyzed Instagram's impact. They reported 32 per cent of teenage girls felt bad about their bodies and Instagram made them feel worse. The research found that young women made comparisons between themselves and the content they view on the platform which negatively affected their self-image.
According to research from the National Library of Medicine, social media platforms like Instagram and TikTok are contributors to the promotion of unhealthy beauty standards and comparison since humans have the innate desire to compare themselves to others.
Samidh Chakrabarti, a former product management director at Facebook, shared a tweet about social media and its impact on the public.
"It could just be that a system that encourages visual sharing unintentionally creates a prestige economy that is detrimental to the vulnerable," he said in the tweet.
In 2021, Harvard Professor Bryn Austin, an expert on eating disorders, sat down with Harvard's School of Public Health for an interview where they discussed this topic.
"Instagram is peddling a false narrative that the platform is simply a reflection of its users' interests and experiences without distortion or manipulation by the platform. But Instagram knows full well that this is not true," Austin said.
That same week in September, it was revealed that CEO of Meta, parent company of Facebook and Instagram Mark Zuckerberg said he would not approve changes to reduce the spread of false content on the Facebook News Feed if those changes would also reduce user engagement.
Currently neither Facebook or Instagram have implemented change strategies to try to combat the side effects that their platforms are causing in society.
An article published in March 2020 by the Family Institute at Northwestern University talked about how to create a healthy relationship with social media. Research showed that teens should find a safe space to check in either with a trusted adult, friend or a counselor to create their own boundaries with social media as a way to regulate their relationship and dependency with the platforms. The article showed that teens should feel free to talk openly about self-awareness and emotions.
"Outside of virtual reality, there is life that wants to be experienced. That calls for us to live one hundred percent, where effective exchanges materialize and where we see ourselves truly flourish as people," Cervantes said. "Social media can be used as one more tool in life, but it is far from defining us like people."