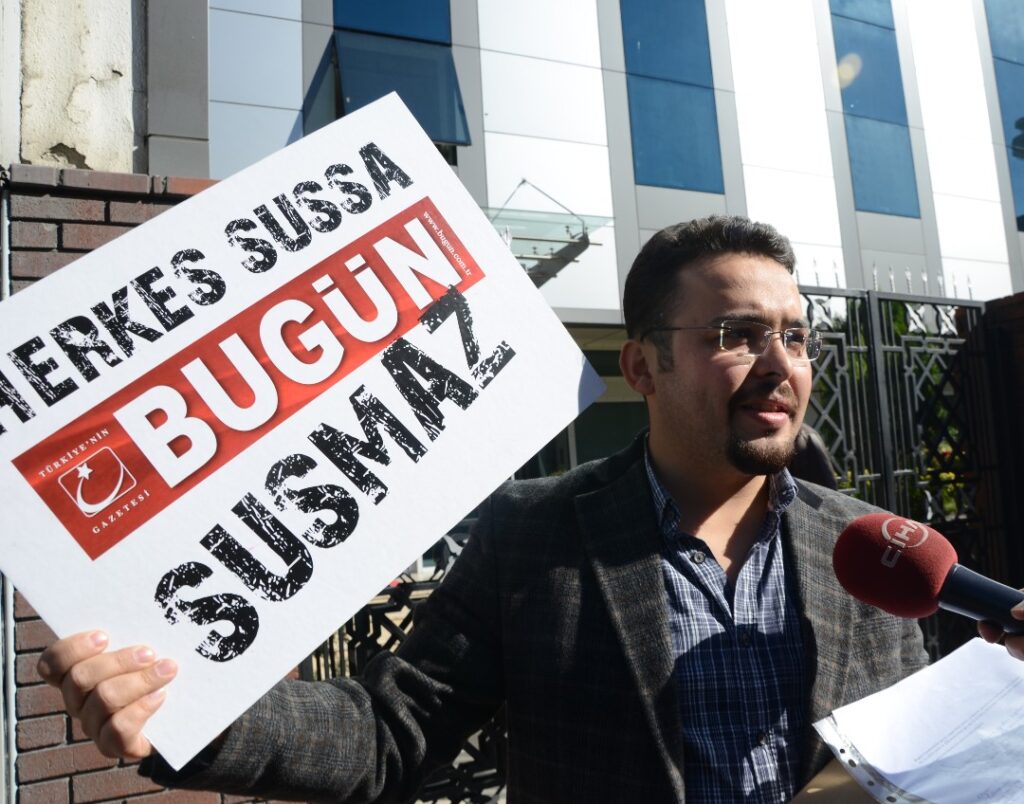 By Nur Dogan
A father feels he is a dad when he holds, hugs, and smells his baby in the operating room. Some special times are indispensably important for a father, like hearing the very first word of his baby or seeing the very first step of their tiny feet. A dad celebrates his child's first birthday and dreams of their graduation from university and their wedding ceremony.
Bilal Sahin says he could not witness any of these. He was forced to leave his son, fleeing eight countries to survive.
"My wife was seven-and-a-half months pregnant when I had to flee Turkey," Sahin said. "After four years and one month, I was able to meet my wife. My son was four years old when I got reunited with my family."

Sahin used to work at Bugün (Today) newspaper as a reporter and photojournalist based in Istanbul. In October 2015, the Turkish government shut down the paper, when police raided the offices.
"On the next day of the raid, I was forcibly dismissed from my newspaper and my job by the police on the instructions of the state official assigned to the newspaper," Sahin said.
After a short while, Sahin and his colleagues published a new newspaper named Özgür Bugün (Free Today). The journalists were courageous. That newspaper was confiscated by the political force and closed again; the regime was determined to erase them.
This time, they published a newspaper called Özgür Düşünce (Free Thought), which was also shut down by the Erdogan regime on July 15, 2016, in a so-called coup attempt.
"All of our friends were either arrested or banished, I had to leave my country," Sahin said. "Otherwise, I would still be in prison."
After the failed coup attempt, hundreds of ranked soldiers, police chiefs, judges, journalists, and hundreds of thousands of people were secretly labelled before being detained. Police threatened, tortured, and raped some of them during police interrogation, said human rights reports.

"Serious pressure and violence continue inside. Our friends are subjected to all kinds of torture," Sahin said.
On July 16, 2016, he fled Turkey leaving behind his wife and his unborn baby. Sahin said, "the incidents we witnessed were the indicators of what was about to witness. I knew that enduring the tortures, rapes, and discrediting would not be easy. Therefore, I decided to flee Turkey."
Sahin's journey to Canada was difficult. Since he does not have a visa and did not consider asylum, he had lived in Cyprus, Ukraine, Jordan, Georgia, Iraq, Azerbaijan and America all in a row, and eventually came to Canada. "I changed eight countries within a year, and I was detained in Jordan. Even I faced the danger of being kidnapped in Georgia," he said.
"When I was in Georgia, Turkish agents were very effective there, and they were assassinating and kidnapping people who were on their blacklist," Sahin said.
"After a Turkish businessman who was labelled was shot by a Turkish triggerman in Georgia, my friend who was influential there warned me," Sahin said. "I had to be careful because I had been detected there. That's why I stayed home for months. Then I had to leave the place in September 2016."
Sahin had several difficulties both financially and psychologically until coming to Canada. "When I first came to Canada, I was in a financially depleted state. I worked at constructions and various service branches in a pizzeria for a few years."
This summer, Sahin was reunited with his family, hugging his son Beran for the first time.
"I was fascinated to meet Beran, my only fear was how he would react to me. He was sleeping on his mother's lap when they got out of the airport," Sahin said. "I took him sleepily in my arms, firstly, he could not recognize me and went to his mother. And then hugged me, saying 'Dad, I bought you a gift watch,' he gave me the watch he bought in Greece." Since Bilal had talked to his son everyday by video call, Beran did not forget his father.
Bilal is an UBER driver now, living with his family in a condo as if they were never separated.