By Jesse Glazer | Scribe
Since 2008, the Marvel Cinematic Universe has changed the way fans and consumers experience films. Movie theatres have become a place where a community of fans can cheer, cry and laugh. But more importantly, the MCU has allowed people from diverse backgrounds to see themselves on screen. The MCU has changed the industry. Despite what the haters may think, it's here to stay.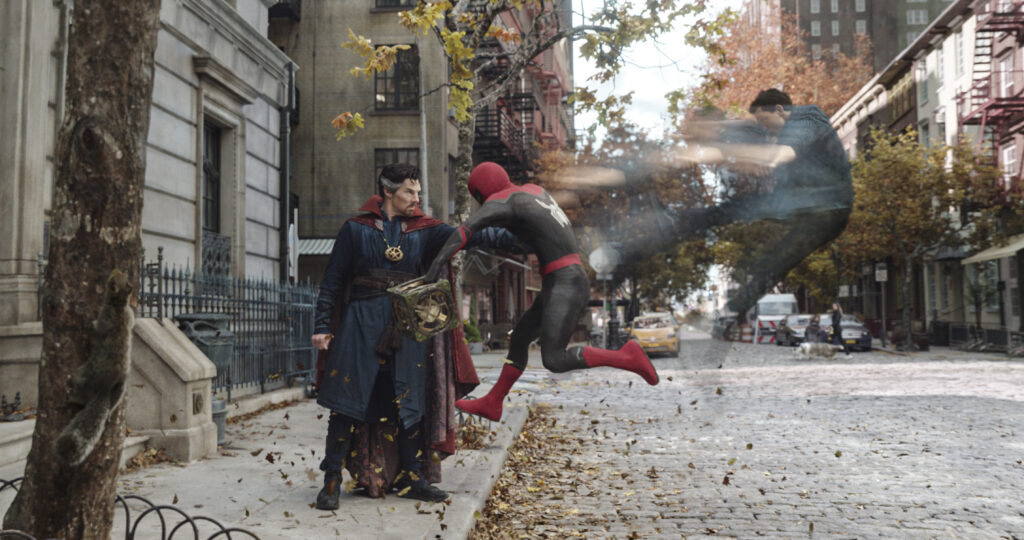 When Spider-Man: No Way Home arrived in theatres, the film seemed to reinvigorate what felt like a dying medium. The final film in a trilogy of new Spider-Man films in the MCU generated a ton of buzz, as a celebration of the history of Spider-Man. Theatres in Ontario were closed throughout the pandemic for months on end. The third in the MCU Spider-Man trilogy changed all of that.
I remember going to see the movie – in pandemic conditions – with 250 people in the theatre. It was electric. When you think of the movie-going experience, "electric" isn't exactly the first word that comes to mind.
Each surprise cameo made people cheer, including myself. It felt similar to when José Bautista had just hit the home run in the American League Division Series against the Texas Rangers with the iconic "Bat Flip" heard 'round the world."
I don't have those experiences in any other movies. Only MCU films.
MCU films have changed the theatrical viewing experience since 2008. The global community it has fostered over the years is diverse and believes that despite what haters may say about superhero films, the MCU will live on and stand the test of time. Its unifying vision, diverse characters, and global family is responsible for that success and will see that into its future.

After 28 movies, five Disney+ tv shows and more on the way, the impact MCU has had on the industry is clear. Box Office Mojo, a site used to track box office numbers for films around the world, shows that MCU is responsible for half of the top 10 lifetime highest grossing films of all-time. That is no small feat.
The Man Behind the Curtain
A lot of the MCU's greater success can be attributed to the man in charge, Kevin Feige, chief creative officer at Marvel Studios. He is responsible for the singular vision that has propelled the MCU to superstardom since the first Iron Man.
Jessica Bay, a post-doctoral candidate in communications and cultural studies at York University and film industry expert, said that Feige and his team of producers have managed to create a universe spanning movies and television that collectively tell a greater story. I'm convinced the industry is envious of the MCU universe. Actors and creators across entertainment want a piece of the action.
Marvel newcomer, Simu Liu – a Mississauga native – who recently debuted as Shang-Chi, told CityNews back in July 2021, while promoting the film, "it's just been the craziest, craziest dream that I could possibly ever imagine happening in real life."
Bay said Marvel's cousin in DC Comics and Warner Bros have suffered because that unifying vision has been lacking. The DC Extended Universe (DCEU) has seen significant backlash from fans, production delays, and director and producer turnover since 2013 when Man of Steel was first released.

Some people think film is an art form meant to share a message and evoke an emotion. Others think film can be a spectacle. The fact that humanity gained the ability to show pictures in motion is a spectacle.
But why can't it be both?
Directors like Martin Scorsese, famous for films like Goodfellas and The Departed, and Roland Emmerich, famous for films like The Day after Tomorrow, have equated Marvel films to something like a fair. Emmerich's recent comments came during promotion of his film, Moonfall – another disaster movie from a guy who has made a career from directing disaster movies – when he said, "naturally, Marvel and DC Comics, and Star Wars have pretty much taken over. It's ruining our industry a little bit, because nobody does anything original anymore."
Their comments make little sense. They seem to believe that their films have more originality compared to Marvel films. But it depends on what you consider and how you define "original."
"It's about thinking that their film has some version of quality over others, that there's a hierarchy," Bay said.
What happened to having fun at a theatre? The MCU reminded us of that.
Diversity in the MCU
The MCU reflects the society we are today and how we see ourselves. They continue to evolve in their storytelling with Shang-Chi, Eternals, Ms. Marvel and more, all coming through the pipeline, changing the mould and telling more diverse stories. Something the MCU has gone back to as an important piece of the puzzle for them.
In terms of diversity, Marvel has released films and shows elevating women, women of colour, and people from other marginalized communities including the LGBTQ+ community. If the MCU wants to continue to stay successful, they'll need to keep reaching into that wealth of characters to tell more diverse stories.
Erika Chung, a postdoctoral candidate in communication and culture studies and an expert in comic book history, said while it's important that Marvel continues to use its deep well of diverse characters, it needs to be done well and with respect, particularly with racialized characters.
"You saw it with how they dealt with Shang-Chi, there's a lot of intentional thought put in, and I really appreciate that," Chung said. Shang-Chi had a largely Asian cast including Michelle Yeoh and Tony Leung, as well as an Asian director in Destin Daniel Cretton, who contributed to the screenplay.
But the bar doesn't just stay at one point. It must keep moving.
"If Marvel has proven anything it's that they're quite good, at least keeping up with the bare minimum," Chung said.
Chung explained how in comics there's always been a theme of universality, but historically, it has often been very white and male dominated. But now, the MCU is catching up to the shift the source material has been engaged in for a while, with characters like Shang-Chi, Kamala Khan (Ms. Marvel), She-Hulk and more.
So long as the MCU continues to evolve and embrace diversity, not only in front of the camera but behind it as well. Jonathan Petrychyn, a postdoctoral fellow at X University in Toronto specializing in queer film studies, said ultimately the people who can best convey the experiences of those diverse communities are people who have lived those experiences.
"LGBTQ people should be in charge of our own stories," Petrychyn said. "If Marvel wants to tell a story about a gay superhero there should be, you know, gay people behind the camera, a gay writer or gay director and queer people working in all sorts of roles behind the scenes," he said.
He's right.
Who better to convey the experiences of the queer community than a member of that community? It doesn't make sense to bring in a cis-hetero-white male to tell a story about a bisexual trans person of colour. He explained how these kinds of roles haven't traditionally been given to those in the queer community, but there's a long history of queer people working in Hollywood. Often hidden, or in roles that weren't grabbing headlines.
"Queer people should be in charge of telling our own stories and that goes the same with any kind of marginalized community," Petrychyn said. "If you don't have queer people to tell those stories then they aren't going to be authentic," he said.
Are MCU films 'important'?
Nicholas Seles, an entertainment journalist at Humber College and fan of the MCU recognizes the importance of the cinematic universe in film history. Particularly in its ability to revitalize the experience of going to a theatre and seeing a film.
"[The MCU] has redefined the movie-going experience," Seles said.
Seeing a movie in a cinema was often previewed with warnings about being quiet in the theatre. Since the MCU, theatres have become places where cheering and screaming are normal and regular occurrences.
When Captain America picked up Thor's hammer — Mjolnir — in Avengers: Endgame or when Thor arrived in Wakanda — the fictional country in Africa home to Black Panther — to help the Avengers fight back against Thanos' army, it got so loud. I mean top of your lungs cheering. Something I'd only ever seen in sports.
Seles thinks that what the MCU has done so successfully and what makes them so important in film history, is the community they've created. During Avengers: Endgame there were campaigns pleading with fans not to spoil the film for those who couldn't be there opening night – Nick was there opening night, no need to panic.
"By and large, to have 8.5 billion people on the planet and for the most part [have] that rule get respected, I mean, that's huge," Seles said.
"For whatever reason, people, as a global community, as a film-loving community, as fans, they seemed to respect that spoiler request. And I think when you can get people to come together like that, then you've obviously achieved something really special," he said.
The MCU has created something special that people, film-lovers, and Marvel fans can hold onto, something people want to talk about.
And people talk about it. All. The. Time.
Many watch YouTube videos about different theories, breakdowns and discussions about easter eggs or small details I might've missed. At the end of the day, the community that the MCU has built, which has fallen in love with this franchise, these characters, and these stories, they recognize how important it is.
"For that reason, it is important film, because it brings people together," Seles said.