By Nathan Abraha | Scrbe
'There was a time when wrestling ruled the world, that time may never come again but that hasn't stopped the stories of the sport from being told and born.'
Wrestling is a theatre of madness, a baptism by fire that burned ferociously for decades, the intensity of its flames has cooled in popular culture over the last few years but Canadian indies haven't stopped saying their prayers and eating their vitamins — and they have stories to tell. Independent wrestler Vaughn Vertigo certainly stands out with his long brown locks, jet black sunglasses, and charismatic showmanship. Growing up idolizing wrestlers like Chris Jericho, he began wrestling at 14, dreaming of one day reaching the tall summit of the WWE. Yet today the independent route is one that Vertigo says can work more than ever before.
"Guys like the Young Bucks or Colt Cobana proved that you can travel the world and not need that source of income, and they were making more money than they would have made being assigned to a contract," he said.
"That's incredible to me."
Vertigo sees the increase in wrestling promotions around Canada as a positive for talent like himself.
"I could say for wrestling in Ontario, at least before the pandemic, at least half of my income would come from independent wrestling just travelling all over the province," Vertigo said."I do these U.K. tours and occasional stuff in the U.S., but in Ontario, I was not doing too bad. There was enough work for me where I could wrestle seven or eight times a month," he said.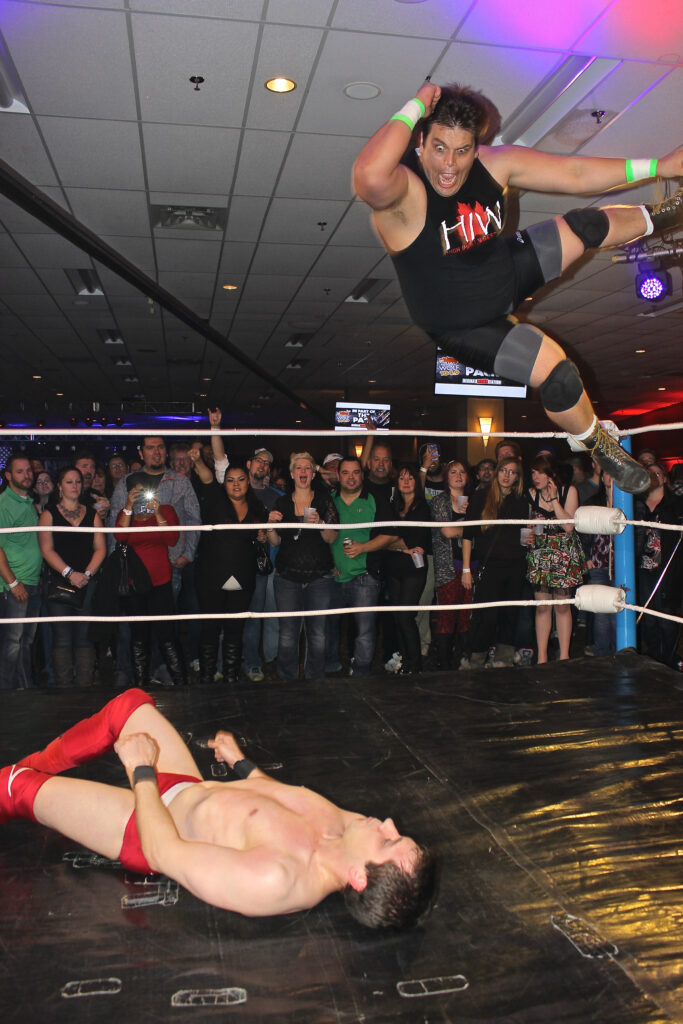 Wrestling all over Ontario in promotions such as Barrie Promotions and Luche T.O. gave Vertigo the experience necessary to seek the largest seat at the Canadian wrestling table, Smash Wrestling, but it wasn't the ending he expected.
"The promoter said, 'Well you just don't have a big enough name.' So I said okay I'll just go wrestle somewhere else. I started wrestling in England, and I think getting reps anywhere, other than where you start helps," he said. "I've wrestled people in England that nobody would get the chance to wrestle here in Canada, like I've wrestled people from New Zealand, Germany, and Japan, all over the world because they just have a bigger scene."
Vertigo currently plies his trade for Insane Championship Wrestling (ICW) in the U.K. and he sees indie wrestling as presenting something to the audience, unique from the mainstream.
"I think it's trying to present wrestling in a new way that hasn't really been delved into and that's tapping into different, new storylines that haven't been done before," he said.
Canadian indie wrestling faces a battle not only in the ring, but in the promotion too. Often publications are focused on the mainstream, like WWE, but there is hope in places like Pro Wrestling Post to wave the flag for indie wrestling.
Founder and owner of Pro Wrestling Post, Marc Madison remembers being starry-eyed watching Mr. T's appearance at Wrestlemania I. He recounts segments alongside Hulk Hogan as the first times he really became a fan.
"It wasn't really specifically the wrestling," he said, "It was the whole spectacle and the pop culture that is tied to it. That would be my introduction."
After falling in and out of love with the sport, like many others, Madison began to look towards the indies to find a different flavour from the mainstream.
"It's the whole idea of fake or reality, that people are more convinced when they look at Bryan Danielson's chest red and scuffed because that's legitimate bruising," he said. "Promotions like New Japan, All Japan, and Ring of Honor wouldn't necessarily go over the same way years ago. Now fans are going to go down that rabbit hole of wanting what's real."
Reflecting on Canada's legendary provincial wrestling hot spots like Stu Hart's Stampede Wrestling, Madison says the current landscape points towards a wider spreading out of opportunities all over the country.
"In Canada, it doesn't have to be all coming from one place. Stampede was in Calgary, Ontario produced a lot of great talent with Edge and Christian and those names out of Ron Hutchinson. And then people today like Sami Zayn and Kevin Owens came out of Montreal," Madison said.
The trend of wrestlers being satisfied with working through indies and not jumping towards the big promotions is one that has galvanised the industry. Wrestlers have become increasingly aware of their power and that's something Madison doesn't see an issue with.
"How many times do people take less money to work in a place where they're happy, their friends are happy and camaraderie is there," he said. "So it doesn't have to be where if your time in one company ends, your career ends. That's unfair to you, especially if you've got so much left to give."
Canadian wrestling can't be discussed without the prairie province of Saskatchewan, notoriously tough and proud. Local wrestlers, like Thyrillin Dylan, have become the last of the old guard and stressed the need to pay respect to the past generations.
Dylan, real name Jesse Robson, spends his days as an office worker but has been in the business since 1997. The Saskatchewan native began his journey as part of the ring crew and sound equipment team for Hardcore Wrestling, a now-defunct promotion from Regina.
"They created a scene here in Regina, there was nothing before that, however, there was Stampede Wrestling 10 years before that was coming through," Dylan said. "But there were no companies in the 90s and Hardcore Wrestling created that, so I would thank those guys for creating the Regina independent wrestling scene," he said.
In the 90s, Canadian wrestling had a provincial identity. You couldn't find the same matches and style across Canada, something that has changed today with the often mingling of wrestlers across the country instead of being bound to a single place.
Dylan points at another lost art, Kayfabe.
For decades, the theatre of wrestling was more akin to a top-notch performance by a Meryl Streep or Nicole Kidman, wrestlers bound by a code practiced a fabled concept known as Kayfabe; this was the state of mind a wrestler always had to carry.
Even outside the ring, they stayed in character. Some feuds would take years, storylines would span across endless matches and segments. This is something Dylan sees missing in a lot of young wrestlers today.
"They'll transition into a move and it's completely telegraphed, their excuse is, well, the fans know that they have to suspend their belief," Dylan said. "If you're relying on the fans to suspend their sense of reality, then you've failed as a wrestler, you don't even give them a choice. They need to look at it and believe it's all real," he said.
At 39 years old, Dylan is a family man with a wife and kid, but wrestling is something that'll never leave him. His work spans many promotions, including High Impact Wrestling. In 2016, he made the switch to Ringside Wrestling, and now reigns as their heavyweight champion. His first big title since 2004.
"It's been 18 years since I have been the company-lead, I just joined Ringside Wrestling around October 2016. At the time I felt like for a variety of reasons I had to get out," he said. "Then the tide started to shift, eventually High Impact Wrestling went out of business. So it was good I made the switch before then."
Dylan's life has really changed since his time carrying gold in 2004. Life progressed and changed, but in that time he's found another reason to come home.
"When I look back at where I was back in 2004 as the Central Canadian heavyweight champion, you know, single, no kids, and now I'm married with a full-time job with two kids. Before I'd bring the belt to my empty apartment, nobody cared. But now you show the kids. They're excited. That's pretty fun," he said.
Dylan's body isn't what it once was, every walk into the locker room has gotten tougher with age. The bumps he's taken — they're enough to call it quits.
"I've joked with some of the guys like hey let's call it a career–after this match let's just stop showing up," Dylan said. "At this level the risk of injuries is real."
Robson hopes to step behind the curtain after his wrestling career and write for promotions.
"It'd be fun to take a kick at the can, even if it lasted a day," he said.