By Trevor Oattes

Bobby Buck starts his morning with stretching and a foam roller, digging into sore muscles so that he can put them through another punishing workout later in the day. The 18-year-old recreation and leisure services student then heads to an early morning class before a quick shift at his school's gym, where he works part-time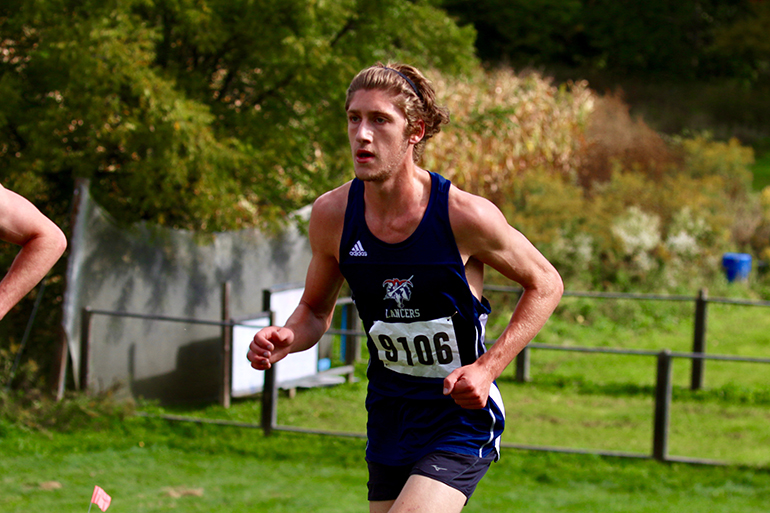 From there, he heads to the track, where he can be routinely found doing 10, 12 and even 18-kilometre runs, alongside hill sprints or fast-paced 400-metre dashes. After a stop at home for a meal, he heads to the basketball court for a two-hour practice with the Loyalist Lancers, which ends at around 10 in the evening. Then he sleeps, letting his body rest so that he can do it all again the next day.
The life of a college athlete is a constant struggle in time management, with a love of the game balanced alongside school, work, sleep and some form of a social life. Yet despite the stressful workload, there are some who choose to fill their busy schedule with not one sport, but two.
"It's been something I have had to do for a long time, as I've grown up kind of being good at a majority of things, I've never really specified in a single sport," said Buck. "So coming to Loyalist gave me the perfect opportunity to have a cross-country season and a basketball season later on. It's been the perfect balance to be able to do both. I have a love for both those sports and I couldn't imagine giving one of them up."
"Coming to Loyalist gave me the perfect opportunity to have a cross-country season and a basketball season later on. It's been the perfect balance to be able to do both."

-Bobby Buck, dual-sport athlete at Loyalist College
Buck's love of sport is more than just a personal obsession, it's in his blood. His father, Jim Buck, is the athletics director at Loyalist. On top of that, two of his three older siblings competed for Loyalist; one sister competed in basketball and the other sister – a dual sport athlete herself – played basketball and soccer
"To be honest, my involvement in sports goes back as far back as I can remember," said Buck. "There's a picture of me in the Loyalist gym from back when I was a newborn. I've been around Loyalist athletics and all kind of athletics my whole life. I guess I've just been around a family of athletes since I was born."
Though his love of athletics is unrivaled, Buck admits that the workload of a dual-sport athlete can be very difficult to manage, especially on the social life.
"Between practices in the afternoon and then an 8 a.m. class and working around noon, it's a bit tough to manage your homework and your social life around everything else," said Buck.
According to Kevin Beatty, Loyalist's cross-country coach, Buck's success in sport is as much due to his time management skills as it is his athletic talents.
"He makes being a high-level student athlete look easy even though his schedule is jam packed," said Beatty in an email. "His time management skills are impressive for a young person, especially through the fall when school is in full swing as well as both sports."
Buck advocates strong time management skills to anybody willing to undertake such grueling labour, though he does have a saving grace that helps him manage the stress: his dad."The one good thing is that I am pretty close with the family that I have in Belleville," said Buck. "My dad is the athletic director, so where I work is literally right down the hall from him.
He can pop in and ask me how my day is going and if I need anything whenever he wants. So that's pretty helpful."
While the life of a dual-sport athlete can be tough, it can also be incredibly fulfilling. For dedicated young athletes like Buck, the challenge and the physical exhaustion are their own reward. So while Buck sprints down the track and dons a Lancers jersey to take to the court, he can take pride in the knowledge that he is continuing a legacy in Loyalist athletics.
"It's been a great experience, my coaches have been wonderful to me," said Buck. "They've both accommodated my schedule really well, they've talked to each and made it so I can have the best of both worlds in competing in both sports. It's been a great time."