By Nathaniel Smith
It's the 18th century New Brunswick has been separated from NovaScotia.
Molson's Brewery is founded in Montréal. And there's some new composer named Mozart making waves in Vienna with his new opera The Marriage of Figaro.
Cricket is the new sport being introduced in Canada.
Cricket is a sport that allegedly dates back to Saxon or Norman times, first being referenced to in a 1598 court case in England over a piece of land. The testimony stated a man played cricket on the land with his classmates around 1550. In Canada, particularly in the province of Quebec, cricket matches can be dated back to 1785. George Anthony Barber ,an English scholar and pioneer in the cricket world, founded the Toronto Cricket Club (originally named York Cricket Club) in 1827.
Almost two decades later in 1844 Canada and the United States had their first international match in New York, the rest was history. Cricket, which is currently the second most popular sport in the world (according to the World Atlas), has had a great history in Canada. But right now inOntario, the sport still faces many challenges in trying to gain maintstream at-tention.
In Ontario colleges cricket is a recreational sport and has been for a while. Rec-sports follow a certain schedule that stays consistent throughout both semesters, where sports often have one or two practises a week. The rec-sports have a limited number of tournaments as well each year, so this time has to be valued, a problem that comes with being a part of a recteam.
Rajeevan Vinayagamoorthy, the coach of the Fleming College cricket team and former pro cricket player in England's Southern Premier division for eight years, sees a high demand for cricket at his college. This would be any coach's dream, but the perennial challenge comes as decisions need to made over the number of players that can participate.
"Lots of students wanted to play cricket, but if I go to a tournament, I can only bring 10 students," Vinayagamoorthy says.
This can weigh on a coach who wants to encourage involvement for a sport they love.
"Cricket is our God back home, we're used to playing cricket all the time and here [in Canada] it is not promoted like soccer, volleyball, and baseball" says Parth Joshi, the captain of the Seneca cricket team, who started playing cricket in India.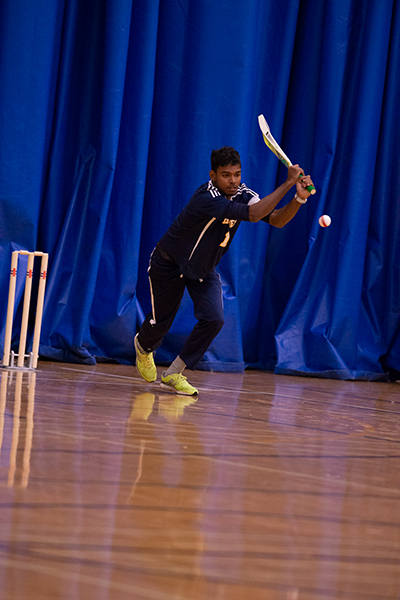 Canada is a familiar destination in the sports world with a history of great athletes who are from or played for the country, such as: Wayne Gretzky, VinceCarter, Steve Nash, Russell Martin and Bianca Andreescu.
Even with its huge worldwide following there isn't the same recognition for the game of cricket in Canada.
The name game is a little more challenging when put on the spot to name a cricket player, try it…still waiting…
"When I meet people from Toronto and I mention I play cricket they think of that sport on a horse where you're hitting a ball with a stick," says Jeremy Gordon the Bowler for the Cricket Canada Inter- national team describing how Torontonians think cricket and polo are the same game.
Gordon, born in Guyana, started playing cricket at 13 and made his senior debut at the age of 17 for the Guyana first class team. He would later make his ODI (One Day International) debut for Canadain July 2012 and a year later played for Canada in the qualifiers a year later.
Coming to Canada was a difficult move for Gordon who was only used to the cricket in Guyana at the time.
"It was hard for me to adjust because I grew up in a culture that plays cricket every day in the Caribbean and it's a bitmore structured, even cricket at the club level has professional coaches, there's always someone who has a professional opinion to turn to when you're struggling."
The differences in the game are something a player can work around, but the approach of how Canadians played the sport was a shock to Gordon.
"Moving to Canada the culture here is train may be once or twice a week ,play on the weekend then win or lose you're hav- ing a beer," he says "It was kind of weird even when we won games back home, we looked at ways we could improve, and here guys are happy to just hang out on the weekend as opposed to being super competitive."
Many in the cricket community say the lack of promotion is to blame for how the popular international sport is an outcast in Canada. A large percentage of OCR cricket participants are international students who picked up on the game from their home countries, just as Gordon did in Guyana.
If the promotion isn't there becauseof the lack of media coverage compared to other sports, the cricket community will need to find a solution, Gordon suggests. "Maybe Cricket Canada itself can bring awareness to schools by sitting down with provincial and city bodies to bring awareness to the schoolboards."
Gordon made it clear that he himself wouldn't mind making this happen.
"Let's say if Cricket Canada had pop-up shops going to schools in every province or city," he says.
"Support from the school system would be appreciated because if you're in college or university and play for a national team, schools aren't as lenient in terms of giving students time off or writing exams before or after the games, says Gordon.
Vinayagamoorthy believes "If cricket is promoted in colleges, one day the Canadian national team will be better than other countries."
Looking at the bigger picture, if cricket can be supported like other sports in colleges players potential might be seen by the pro teams. Vinayagamoorthy has strong hopes for all the cricket player she coaches and tries to help them continue their future in the game.
"What I'm doing right now is introducing leagues in Toronto to graduates
who played cricket really good during the indoor tournaments so I can promote their skills," says Vinayagamoorthy.
According to him, he puts in an effort solely to push the talent students have.
One way to increase attention is more playtime. Athletes and fans often ask about the possibility of Cricket becoming a varsity sport.
Shivkumar Guard, the captain of the George Brown cricket team who has played at four tournaments says "I surely want Cricket to become a Varsity sport."
The answer to why a particular sport isn't an OCAA varsity sport continues to be that it needs support of five mem- ber institutions to be considered. If five schools are interested, they will then determine format (outdoors/indoors), gender equality, season, schedule (league/ tournament), locations (on or off-campus), officials, budgets, etc.

OCAA's commitment to equal opportunity means a consideration of a female team.This year at the recreational cricket tournament that took place at Humber College in late October, teams did not have a single female player on their roster.
Cricket is a game that has had female success with leagues like Women's Cricket SuperLeague (WCSL) dedicated to them, with all international men's team having a female counterpart. Rec sports allow anyone who wants to participate.
In Toronto women's cricket is visible, but is only now being showcased at a provincial level by organizations like the Cricket Council of Ontario who did this as part of their strategic plan in 2015.
Discussions about a men's and women's team would be something theOCAA would likely have if the game were to make it to varsity consideration.
"Back home we had a female team, and they did pretty well. I know there are some female cricket leagues in the GTA, when someone promotes cricket they can't do it from a male perspective and need to do it inclusively for both men and women," says Gordon.
"IF CRICKET IS PROMOTED IN COLLEGES ONE DAY THE CANADIAN NATIONAL TEAM WILL BE BETTER THEN OTHER COUNTRIES"
Varsity or not cricket is a sport that anyone can play and should learn even if they have fears of playing a game that they're not familiar with.

Opportunity is everywhere and should be utilized, Gordon encourages people interested to reach out locally, "find a local club, there are cricket forums in the GTA like blogs that can make you reach out to people. I don't mind giving my information out if someone is interested in crick-et and want to learn…I'm sure my other colleagues will probably share the same thoughts since in the end we want to promote cricket in Canada to a level where its mainstream."
Vivek Vaidya, a George Brown student who often visits rec cricket says"just give it [Cricket] a chance, we had a Chinese guy playing for the first time today, we taught him how to throw the ball and hit with the bat ,it's all about how you approach it."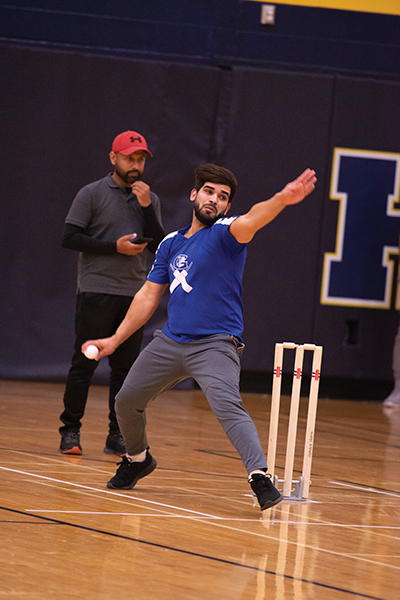 No doubt cricket joining the varsity programs would mean a lot to the students who have a passion and drive to the game.But perhaps the answer to create more opportunities for current and future cricket players is to get to athletes a little earlier.
Gordon suggests getting to the grass root level would benefit greatly. "the grass root level means kindergarten and middle school. In other countries they play when they are young, around five to seven, and build that love and passionfor cricket from that tender age, as it grows and goes with you your entirelife."