By Madeline Jafarnejad
Lukasz Studzinski is a huge Raptors fan. He has loved them since he was 12 and wears the team jersey every time he plays at school or at his hospital. He wears Kawhi Leonard's because he is also a defender and says wearing the jersey inspires him to play as good as the former Raptors all-star.
Whether it's sports, music, movies or shopping, everyone should have the chance to indulge in what they love.
Yet, this isn't a reality for everyone, people with disabilities often face barriers that prevent them from doing something they might enjoy. For some, it might be not understanding the context of a movie because there aren't any subtitles, or not being able to enter your favourite store because there is no ramp.
But for Studzinski, first year Recreation and Leisure student at Humber College, it was not being able to play his favourite sport at school because they didn't have adaptive sports available at his campus.
Studzinski has been playing wheelchair basketball for eight years at Holland Bloorview Kids Rehabilitation Hospital.
He was born with spina bifida and hydrocephalus and says he risks his life every time he plays basketball.
"Spina bifida basically means I'm paralyzed from the waist down but I can still move my legs and I can feel them," says Studzinski. "The other disability I have is called hydrocephalus, and that is a tube connected from my head to my stomach, and it's basically a drainage system that brings fluids from my head to my stomach because I have too much in there."
If the tube gets hit or snaps, he could die on the spot, but that didn't stop him. When he found out they didn't have wheelchair basketball at the North Campus at Humber, he knew something had to be done.
"This last November there was a basketball tournament at Humber College, and that got me thinking 'why not do a wheelchair basketball event there', so I went to Jen and we talked about it," he says. "I wanted people to experience wheel chair basketball because that's what I've been doing for eight years now."
Humber College is now going into its second year of having adaptive recreational sports events available to students at the North Campus and it's all thanks to him.
"He was asking us if we could do wheelchair basketball, which is his sport. So, between myself, Lucas and his program coordinator, we put together a wheelchair basketball event last semester." says Jennifer O'Reilly, North Campus Recreation Coordinator at Humber College.
"He was a student of the Recreation and Leisure program, and for his class, they actually had an adaptive sports class," says O'Reilly. But according to Studzinski, his program didn't even talk about adaptive sports. So, it was not only that, but also the fact that he wanted everyone to have the chance to try wheelchair basketball that inspired him to spark the conversation with O'Reilly.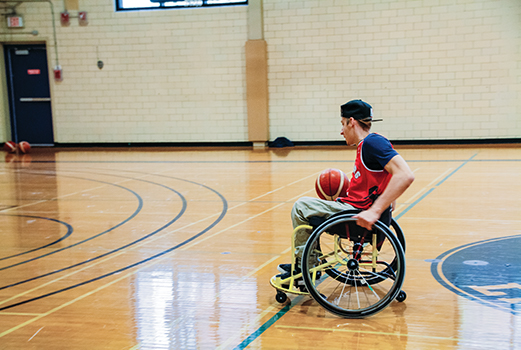 Studzinski says he wanted those who are in wheelchairs, and have a disability like himself to have the chance to get into wheelchair basketball or any other adaptive sports.
"They actually didn't have anything about adaptive sports in my program but I thought there should be because I feel like even abled people would want to learn about that stuff," he says. "I thought everyone should have access to recreational sports at their college, because often people in wheelchairs aren't very active."
According to the U.S. Department of Health and Human Services (HHS), people with physical disabilities are three times more likely to develop illnesses such as heart disease, diabetes, stroke or cancer than people who do not have disabilities.
Meaning, people who live with disabilities should be encouraged to do aerobics and cardio to help lessen the chances of developing these kinds of health issues.
However, HHS says half of people who live with disabilities do not practice any physical activity in their leisure time.
Dr. Kathleen Martin Ginis is a Health and Exercise Sciences professor at the University of British Columbia and is the Founding Director of SCI Action Canada. A Canada-wide alliance of organizations and researchers that work together to promote physical activity for people with spinal cord injuries.
"We know that low levels of physical activity are linked to the development of cardiovascular disease and diabetes," says Martin Ginis. That's why she says people with physical disabilities, and specifically spinal cord injuries, can only benefit from physical activity because as a population they are less fit and less likely to be physically active than people without disabilities.
"I WANTED PEOPLE
TO EXPERIENCE WHEELCHAIR BASKETBALL BECAUSE THAT'S WHAT I'VE BEEN DOING FOR EIGHT YEARS NOW."
"I think that all colleges and universities should have adapted sport and exercise programs," says Martin Ginis. "Regular routine participation in sports and other types of physical activity can reduce the risk of cardiovascular disease, diabetes and obesity and we also know that certain types of can reduce the risk for osteoporosis."
So why don't all Ontario Colleges have more adaptive sports easily available to students with disabilities? Algonquin, Durham, Mohawk, Cambrian, Centennial, Confederation, Fleming, Loyalist, Niagara and other Ontario Colleges have held some sort of adaptive sports event including wheelchair basketball but there are no official leagues in place.
Even at Humber, there were only two wheelchair basketball events planned for Fall 2019. One at the Lakeshore Campus in October and one at the North Campus in November. Meanwhile, abled bodied students can easily access all kinds of varsity and recreational sports all throughout the year.
Sonya Herrfort, Athletic/Recreation Coordinator at Humber College, has been working for the institution for over 20 years and was the first to implement adaptive sports at the school. Three years ago, she organized an adaptive sports event at the Lakeshore Campus and that is how it all began.
"Most importantly I wanted to think outside the box when it came to student programming. I wanted to push forward new ideas be inclusive," says Herrfort. "Lukasz came to our event and loved it so much he wondered why they didn't have it at North and that's when he went to Jen."
Apparently, her inspiration to make sports at Humber more inclusive came to her when she saw a student named Renee Foessel participating in sports at the college. Foessel is a Paralympian and world champion medalist born with cerebral palsy. She won a complete medal set at the Parapan American Games in Toronto.
According to Herrfort, if it wasn't for Foessel she wouldn't have been so inspired to implement adaptive sports.
"I saw that we had a Paralympian at our own school and I wanted to make our programs more inclusive so we worked with Parasport Ontario to get the equipment and make our first ever wheelchair basketball event happen," says Herrfort.
Today, Humber offers Wheelchair Basketball, Sitting Volleyball and Audible Soccer which all include equipment provided by Parasport.
Exercise and inclusion are not the only benefits to having these inclusive sports easily accessible in a post-secondary institution like Humber.
"An important benefit is also the possibility for social benefits, to meet other people to have fun to meet new friends to hang out with friends," says Dr. Martin Ginis. "There's all these other social benefits as well as the psychological benefits."
In fact, abled people are known to be active participants at the events which Dr. Martin Ginis says equalizes the activity and allows people with disabilities to socialize with their peers.
At the Lakeshore Campus' wheelchair basketball event in Fall 2019, Lukasz was one of the only players who actually had a disability. The Lakeshore Campus gym was more alive than ever around 2 p.m. during the event which was running all day.
Any student is able to walk in the gym, sign up and play so it was hard to tell the difference between who had a disability and who was abled. Sweat dripped down their foreheads as they focused on an intense game.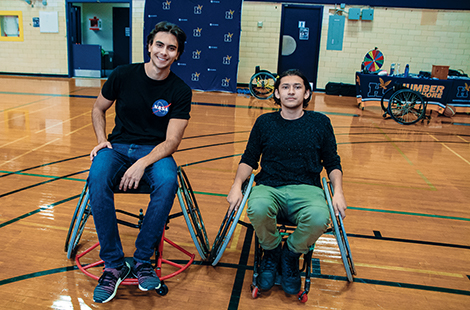 Peter Ionescu and Nabil Khan are both first-year Police Foundations students and decided to stop in and join Studzinski for a game after their classes were over for the day.
"It looks easy," says Khan. "But I noticed that my arms actually tense up after a few minutes and I realized that people who are actually in wheelchairs go through this 24/7 all the time."
By putting themselves in a wheelchair and playing on the court, Khan and Ionescu were able to get a glimpse into the life of a person with a disability, even if it was just for an hour playing basketball.
"It's more appreciation of their way of life and hardships that him and I may take for granted," says Ionescu. "But it was definitely a lot of fun and a lot harder than I expected," he says.
Studzinski says it's good that abled people get the chance to experience what he goes through because at first they might be quick to think it's easy to use a wheelchair.
He says that when they struggle pushing the wheelchair, they realize how hard it actually is and they get to experience what people in wheelchairs like him deal with on a regular basis.