By Ross Lopes
For almost four decades, David-Lee Tracey – or "Trace" – has been coaching cheerleading. He was a cheerleader for six years. Now, he owns Power Cheer Gym in London, Ontario and coaches the Western Mustangs cheerleading team. Fanshawe College students approached him years ago and asked if he could find them a coach for their team. After many years of saying no to coaching them himself, there was an opening at his gym. He decided to give them a try.
That was 11 years ago.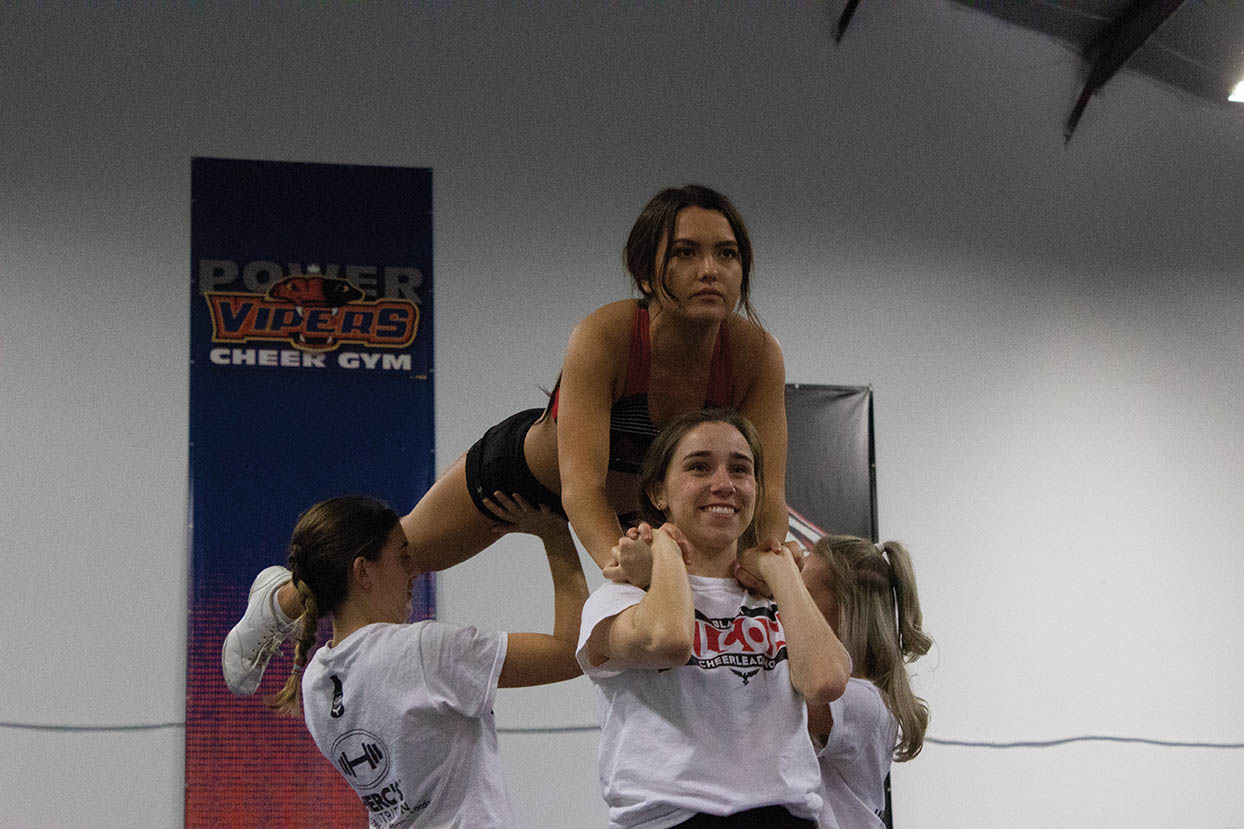 Now, Fanshawe is only college in Ontario that offers their students cheerleading as a sport. However, Coach Trace says the team is not associated with the athletics department of the school. Western University's team, on the other hand, is — and Western isn't the only Ontario university that offers cheerleading as a sport.
"In no way does cheerleading have to be associated with football, there is very little relation in this point of time."

– David-Lee Tracey, Cheerleading coach
According to Cheerleading Canada Inc., 25 universities offer cheerleading as a sport —seven of them in Ontario — as opposed to only three Ontario colleges.
Trace says one way to boost the profile of collegiate cheerleading would be to have more clubs involved.
"There are cheerleading clubs, hundreds and hundreds of them around the country that are very robust and are great training centers," Coach Trace says.
However, Trace says the clubs don't always recognize college teams as viable.
"I know one of the bigger problems that the clubs have is that they will say 'Hey, we don't have the space, we're full [all afternoon]', and say, 'We can't. We'd like to, but we can't,'" Trace explains. "I made it a priority at our gym to make sure that Fanshawe College had space."
There are two sides to cheerleading: competitive cheerleading and sideline cheerleading.
Mario Carito is currently one of the stunt team captains for the CFL Toronto Argonauts cheerleaders, and was a Humber Hawks cheerleader for three years. He has experienced both styles of cheer.
"Competition [cheerleading], we would practice our skills, work on our timing, work on being in sync and that's how we are scored in competitions," Carito explains. "In sideline cheerleading, we keep our skills basic since there is a lot of repetition."
The term "skills" in cheerleading refers to the moves cheerleaders perform. Skills include handspring, handstand, roundoff, tumbling, and many others.
Trace says cheerleading originated with sideline cheer at football games, which universities offer. Since the college system in Ontario does not offer football, college cheerleading did not have that same starting point that university cheerleading did. However, Trace says the sport can move away from where it started.
"In no way does cheerleading have to be associated with football, there is very little relation in this point of time," Trace says.
While schools could have a team that goes to games, Fanshawe came along as a purely competitive cheerleading club. Before them, Trace says the most successful team was Humber, cheering for the Hawks basketball team.
The Humber Hawks cheerleading program ran for five years, ending in May 2015. Kristina McCahon was the head coach for all five years. She says they competed provincially and sometimes internationally. She says they ended on a perfect season.
"We won a couple national championships under [McCahon's] belt there, which was pretty incredible," Carito says.
When Humber offered cheerleading, the sport was associated with the athletics department.
"The school did … the usual backing they would do if we went [on away games], and our accommodations were taken care of," Carito says. "We got the usual varsity athlete traveling package."
However, since they were a competitive team doing sideline cheering, there was simply no space for them at basketball games, McCahon says.
"They could stay in the front [of the court], but they couldn't stunt," she says.
It is easier for university cheerleaders to showcase their skills when they go to football games, since universities have access to a football stadium with a track, McCahon says. They can perform their stunts there.
"Perhaps this is one of the downfalls for the colleges who don't have football. We don't even have stadiums for our rugby teams," she says.
Eventually, the Humber cheerleading team stopped going to games or making school appearances. On top of that, Carito says, when a new athletic director came in, the benefits started to decline.
"With my first two years, it was really great with the athletic director we had," he says. "But when there was the switch … the new athletic director said [cheerleading] is something we have to cut."
Humber's former athletic director Doug Fox, retired. His replacement, current director Ray Chateau, had a different direction for the athletic department, McCahon says.
"[Fox] was of to the belief that we should include as many athletes and athletic teams as possible; if we can support more teams … let's do it, let's add them to varsity," McCahon says.
McCahon says Chateau wanted more of a streamlined approach to the athletics department and cheerleading is not currently recognized by the OCAA.
"I think that's part of the reason we saw the program dismantled," she continues. "It moved from a varsity status to a club status, and then it [moved] from a club status … to an extramural."
However, Chateau says the decision to take a streamlined approach to the athletics was made before he took the position.
"That move was made by Doug Fox prior to me coming on board as the athletic director. And I didn't see any need to reverse it," he says. "I think the biggest thing we did is that varsity sports … needed to be competing within the OCAA."
The end of the Humber Hawks, under McCahon's understanding, came down to money. The sport requires a fully sprung floor of nine mats plus training materials. The Humber team trained two or three times a week at Humber, but sometimes the need for certain equipment meant they had to go to off-site — which would come out of the athlete's pockets, she says.
McMahon says the Hawks came from an environment where almost everything was fully funded.
"Moving away from that to an environment where they were given still the use of gym space but not necessarily a priority … and then simply not getting funding for clothing and things like that, [it] became harder and harder to run the program," McCahon explains.
"The program came to a natural end because it was such an expensive program to run and the athletic department — in my understanding — was in a time of budget cuts," she says.
However, Chateau says this was not the reason.
"My number one issue with cheerleading was the health of the students," he says. "For student athletes, we were dealing within an extremely high rate of injury, particularly concussions."
Chateau says during discussions with the athletics head therapist as well as clinic and athletic staff, they found the injury rate and the extent of the injuries unacceptable. They decided they weren't comfortable keeping cheerleading at the school.
"They had the highest concussion rate of any team," he says. "They had more concussions than all of our varsity teams added up."
Chateau says he believes a Humber sport needs to be competing within the OCAA and be attending championships. He says that if there was enough interest— meaning five teams, to be qualified as an OCAA sport — then he would be willing to bring cheerleading back as a varsity sport.
Fanshawe's athletic department doesn't have the same ideology as Humber. When Trace first approached Fanshawe's athletic department, he says they were supportive but told him they couldn't give him money or space for the team.
"That lasted for exactly one year, and a year later they said 'You know what, it's not a thing that we need to spend our time on, so you're on your own,'" he says.
Trace says the relationship between the team and the athletic department is positive, but says since the team is not officially affiliated with the school — even though it's completely made up of Fanshawe students — the school has to pretend the team isn't there.
"That bothers me because these kids bust their assess off for that school and they are deeply proud of their relationship and are Fanshawe to the core," Trace says. "But they don't get any official recognition or even a thank you."
Unlike the Fanshawe team's exile from the athletics department, the Western Mustangs cheerleaders have the benefits of being associated with the university's athletic department. Michelle O'Shea has cheered for both teams.
O'Shea says the Mustang cheerleaders get to attend a lot of events at the school. They are involved in all the football games, both away and at home, and even go to international games.
Compared Mustang cheerleaders, O'Shea says Fanshawe gets nothing. The Fanshawe team isn't really a part of anything with the school, and O'Shea says that makes it harder to get people onto the Fanshawe team. She says most students don't really know about the team at all.
"If the school would recognize it as a sport [and] if it was connected to the school, that would probably make it a little bit more beneficial," O'Shea says.
Even though the Falcons aren't the official cheerleaders for Fanshawe, O'Shea says she still loves the environment the team offers.
"There's always new skills to learn, we're all working together for the same goal of hopefully winning and improving ourselves, and being able to bond in that team atmosphere," she says.
Fanshaw's Coach Trace says we use athletics as a vehicle for maturity, responsibility and physical training. It's not just about the cheerleading, he says — it's more about the team development, the social skills, physical skills and discipline.
"That's always what has motivated me as the coach," Trace says. "It`s about watching that growth [and] seeing them succeed at the other side … I love seeing that."
[Best_Wordpress_Gallery id="3″ gal_title="History of Cheerleading"]