By Steve Riccio
For competitive badminton athletes, preparation for performance is as much a necessity as it is for any other high-caliber athlete. High-level muscular endurance and mental focus are of extreme value, as is a willingness to put in the work outside of the school gym.
For Georgian College's Jessica Maher, the culmination of her preparation and focus came in February's OCAA championship semi-final singles match. Battling the flu going into the tournament, Maher dropped two straight sets to her University of Toronto [Mississauga] opponent, Rachel Wong, to miss out on a medal despite going up one set in the best-of-three match.
"I never expected myself to get to provincials last year, so just to make it was pretty exciting for me," Maher said. "It's good motication for this year to keep working on it so it doesn't happen again.
For the Georgian College Grizzlies, both athletes and coaches embody this spirit of enthusiasm and dedication, and the results show.
Having sent three athletes to the 2018-19 championships in Missisauga last February, the school has a lot to look forward to this season. Singles athlete Maher brought a fourth-place finish back to Barrie, while the doubles pair of Michelle Kozlowskyj and Courtney Brewer came away with a bronze medal. Mixed doubles athlete, Preyal Patel recently placed second in a Georgian Bay District Badminton Association tournament.
Maher is a second-year student from Tottenham, Ont. studying to get her joint diploma through Georgian and Lakehead University in applied life sciences and biotechnology.
She could tell you a thing or two about the grind that goes into preparing to compete with the best. Whether it's hitting the court on a Sunday or hitting the weights after a court session, it's like the saying goes- 'the grind doesn't stop'.
Having been so close to the medal podium in February, she went into her first off-season as a Grizzly grateful, but unsatisfied and ready to work.
"She's definitely gonna be a force [this year]," said Grizzlies head coach David Irving. "She's been training hard all summer long."
Maher's training routine consists of three components.
The first component, as in any sport, is focusing on game-play style scenarios. Most of this aspect is scrimmaging of pure badminton, but it's also useful to simulate certain various on-court scenarios as well as practicing shot technique and court-running.
The second component is covering the strength and conditioning required to build endurance. Maher trains with Georgian's varsity athletic trainer to improve her running, footwork, and explosiveness. Missing a session in the weight room is not a luxury a badminton athlete can afford.
The third component is not quite as sexy as the physical components, as it is the mental and strategic aspect of the sport. Along with her coach, Maher watches whatever high-level badminton video highlights they can get their hands on in search of ways to add to her game and observe how the best perform.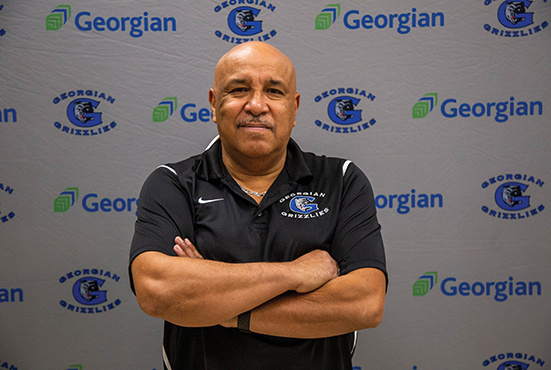 Coach Irving discovered Maher's badminton talent when she was in high school, he proceeded to help develop her skills for her OFSAA tournament in grade twelve.
"She was very smart, very athletic girl, she could have done a lot of sports," Irving explained.
Irving has been the staple in Georgian's badminton program since 1995, getting hired after a long career of his own in the sport.
With the college being situated more than an hour north of Toronto, their success has been a product of development from within.
"We don't have the luck to pull in players that are already trained at a national level," Irving said. "We have built most of our players from the ground up."
No one fits that image at Georgian better than Preyal Patel, one of Georgian's mixed doubles athletes.
Patel, a 21-year old second-year networking technician student, came to Canada from his home country, India, for his studies.
Despite its challenges as a legitimate sport, some athletes can take well to badminton given longer range of reach and flexibility. Patel began playing only three years ago, but his predisposition to the endeavor has driven him to a varsity level.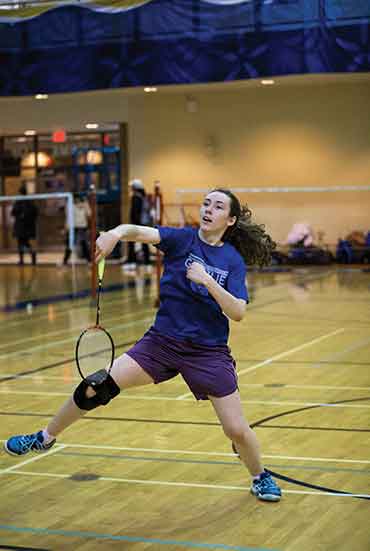 Last year, Irving suggested to Patel that he give mixed doubles a try. Patel followed Irving's seasoned advice, and so he has been playing alongside teammate- Kiersten Hillman since then.
Like many varsity athletes in badminton, Patel competes outside of the college season. Having recently won a single's regional tournament in Barrie, he's familiar with the type of talent that exists in the sport in Ontario.
Patel says that regional tournaments that take place outside the OCAA season can be more difficult because they incorporate a wider range of competition. Despite this, many of his top opponents year-round are top OCAA contenders.
Battling misconceptions around badminton is nothing new for athletes and coaches alike.
"It's one of the world's most high-endurance sports that there are. Irving said. "Some of the world's best athletes are badminton players. Badminton is a sport that a lot of people just don't understand that it is like the number two sport in the world."
Maher says that a lot people associate the sport as "backyard badminton" that they've played at the cottage, whereas the sport can get as competitive and intense as it's racket-counterpart, tennis. On top of that idea in people's minds, it doesn't help the sport's perception that high-level matches are rarely, if ever, televised on national sports networks.
In mainstream sports culture today, a select few team sports dominate much of the bandwidth.
Maher said. "There's just so much focus on the big team sports- hockey, soccer, basketball."
While it isn't a massive sport in Canada yet, Maher sees an increase in interest in badminton, having noticed more and more kids coming out to recreational clubs that she attends.
For Georgian college badminton athletes, the OCAA's validation of the sport in 1976 has ensured that they have and will continue to have the chance to boost the Grizzly name while experiencing the growth and benefits that accompany a student-athlete lifestyle.