By Sean Marco
Records are meant to be broken. Some are easily surpassed while others stay untouched for years. With athletes evolving and getting better, you would expect old records to be shattered by the new school athletes. This isn't the case. There are many different factors that play a role on whether or not a record is easily broken. Rules change, weaker competition, or different styles of play are some factors that could keep a record from being broken.
Cy Young recorded an absurd 749 complete games and 511 wins. Young pitched for the Boston Americans from 1890-1911, an era in which pitchers would regularly play complete games every other day. In today's game, teams are made up of multiple pitchers who have different roles during each game. Pitchers are also only expected to play every five days so the window of opportunity decreases significantly.
Wilt Chamberlain recorded 100 points in a single NBA game well before the three-point line was introduced, which makes this record so amazing. You may ask, why is it so hard to score 100 points when a shot allows you to get three points in today's game. The level of competition is higher and the difference in height and weight between players are a lot smaller. Chamberlain was an athletic 7'0 human that out powered and would often tower over his competition.
Something more familiar to the OCAA is Dominic Pomante's single season goal record for Men's Soccer. Pomante set the record back in the 1971-1972 season recording 21 goals in eight games. Today, athletes in the OCAA play more games which means more opportunities to score, correct? Well, according to Pomante, goal keeping wasn't a priority in the early 70's which made it easy to score. When asked about his record, Pomante said "I feel old! That was 50 years ago." The closest anyone has got to the record was in 1982 when Mike Everson of Fleming recorded 19 goals in 10 games. But at this point in his life, Pomante said it doesn't really matter to him and that it's unusual that his record still stands.
Humber College striker, Leaford Allen expressed his confidence and set the bar high, saying "I got this" when he was shown the Humber goals record at 18. He started his college career with five goals on his first game against Niagara College. Allen was on pace to obliterate Humber's and Pomante's record but as the season went on, he started to slow down finishing his rookie year with 12 goals. With three more seasons to go, Allen has more shots at the single season goal record with the all-time goal record in sight, which currently stands at 55. He says he looks to "shoot for the stars and see what happens."
From men's soccer records to the women's, Tiffany Johnson of Cambrian College held the record for most all-time goals with 83 from 2014-2017, as well as multiple women's soccer scoring titles. This was shattered by Jade Kovacevic who ended her OCAA career this season with a total of 103 career goals. Kovacevic capped off her career with a historic 2019-2020 season finishing with 24 goals, repeating as the OCAA Women's Soccer Player of the Year, and leading her Fanshawe Falcons to another gold medal finish at the OCAA Women's Soccer Championships.
Being one of the most decorated athletes in OCAA history, Kovacevic had years of experiences that groomed her into a goal scoring legend.
Kovacevic participated in the U17 and U20 Canadian National teams as well as the 2010 and 2012 Women's World Cup teams but was dropped before the 2015 World Cup hosted in Canada. After a year at LSU, she moved back to Canada where she thought about retiring from the game.
It wasn't until she moved to London, Ontario where she found a new love for the game. Kovacevic started playing for FC London in the Canadian Soccer Association and for Fanshawe soon after. She also played overseas for Roma Calcio Famminile in Italy's Serie B from January to May 2019 that gave her an experience of a lifetime.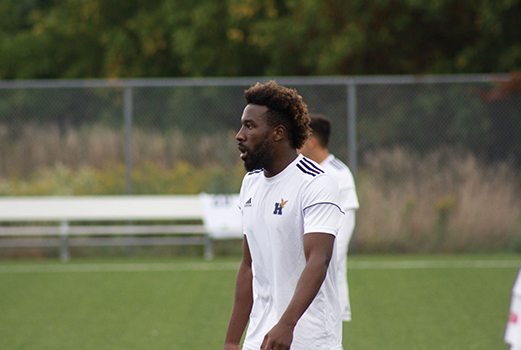 Kovacevic credits her coach Mike Marcoccia for moving her to Striker from a Centre Back which led to 103 OCAA career goals. Despite all the goals, she is a team first player according to her FC London and Fanshawe teammate Chealsea Zavitz. She said Kovacevic's personality and demeanor didn't change throughout all the individual success.
When asked about how she feels about being the only player, in men's and women's soccer, with 100 goals in OCAA history, Kovacevic was surprised and humbly responds "I am very honoured but it is not an individual award" continuing to credit her coaches and teammates that made her job easier. With a lot of talent coming from London alone, Kovacevic hopes someone will beat her records and believes the player will also come from the London area under Coach Marcoccia and his system.
Kovacevic's accolades include: most goals all-time (103), most goals in a season (30), most goals in a single game (nine), two-time OCAA champion, scoring champion, OCAA player of the year, along with a plethora of other awards,
"Stats don't lie," she says when asked about being the greatest to ever do it. However, the humble striker still looks up to the players that came before her.
You may ask, how did she do it? The answer is simple. According to Kovacevic, follow the game plan, trust your teammates, and lastly, grab a coffee and a pack of gum before game time.