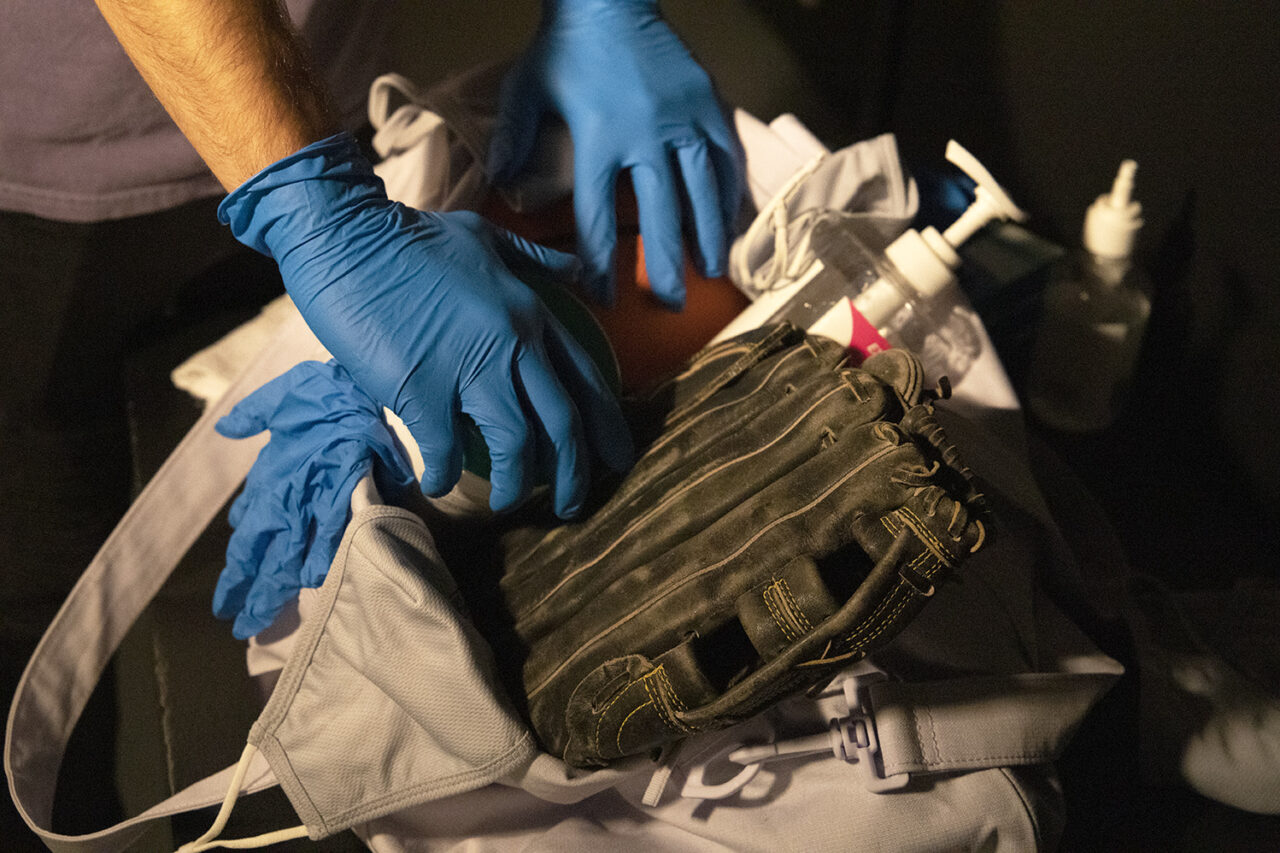 By: Daniel Lonic
The year 2020 ushered students to virtual learning, though student-athletes weren't as fortunate. They were left longing for motivation from team huddles and turf under their cleats.
In Ontario college sports have made their long-awaited return and competition has been reignited, with the addition of a few expected bumps along the road. Far from a return to business as usual, select sports never got to see the light of day in Fall 2021.
For all schools, full vaccinations were a mandatory requirement for anyone associated with the Ontario Colleges Athletic Association, including students, coaches and officials. From there some colleges set their own health and safety rules.
Algonquin College did not participate in any fall sports at all. The student association did not want to charge athletics fees for a still undetermined season. This left many students sidelined as neighboring schools and friends wiped the sweat from their foreheads in-game.
"Some of the girls refused to watch any of the videos and refused to watch the championship tournament," said Dan Gauthier, head coach for the Algonquin Wolves women's rugby sevens team.
The wolves were the championship team of 2019, making it difficult for them to watch others compete for the title they weren't granted a chance to reclaim. Becoming two-time rugby sevens champions would have made history for Algonquin.
"We had some girls who got together and watched it together and just [said], 'Oh, we could have beat them.' 'Oh, that would have been a close game.' 'I would've really loved to play,'" Gauthier echoed the cries of his team.
With rugby sevens announced to return this 2022 season, Gauthier is feeling optimistic about a fresh start. Algonquin rebranded from being the thunders to the wolves, solidifying a clean slate. Gauthier told the upcoming team, "The easiest spot to be remembered in history is on page one."
Despite most of the 2019 champions parting ways from the sport throughout the three-year-long hiatus, Gauthier is confident he'll be seeing a handful of those familiar faces come next year. "What's old is new again," as he described it.
Women's volleyball is one of the two sports returning this January at Algonquin, alongside basketball. Head coach of the team, Everton Senior, acknowledges the persisting unpredictability of the season.
"… Are things going to get worse? The season can still be canceled. If it's not canceled, are we going to be able to have any fans in the stands? Right now, it's looking like no — just all these different challenges that are thrown in front of you at all times. We're operating on a very reduced budget, so we haven't been able to do any tournaments," he said.
The school prohibits any outsiders from entering, meaning that inviting other schools over for scrimmages is out of the question, and families are unable to come to see the athletes in action.
The team had just played their first scrimmage within a full gym when they spoke with Sweat, whereas before then, they were practicing in small-scale community centres. Everton noted that the team was practically against the walls.
The ongoing battle for college athletes to stay in the game is learning and adhering to all the new rules.
Michael Aquino has been the head coach for the Humber Hawks men's soccer team since 2013. In comparison to his past years of coaching, Aquino notes that the most detrimental difference this season is the hindrance of communication — often during times where it was most essential.
"You couldn't even sometimes go into change rooms to have pre-game discussions…" Aquino said. "So that's where it [mandates] made it a real challenge."
"Because you're trying to communicate messages to the team, may it be for practices, for games, for tournaments, for whatever the preparation required, in a very different time — a COVID time — which had many restrictions placed upon us," he added.
With the season starting off later than usual, this cut into the time that would be spent focusing on team-building exercises. Where the squad would typically be taken to a training resort, staff needed to redeliver that experience in a way that aligned with the newly-placed limitations.
Albeit being presented with unfamiliar obstacles, Aquino proudly stated the team adjusted smoothly once they got into the groove of it.
"I think our group adapted well, adapted quickly and understood what they needed to do under the new guidelines. We tried to deliver the best possible environment, the best possible program under the current conditions …" he said. "As players, they were able to basically put forth a product that ultimately resulted in a gold medal win."
In all schools running athletics overnight stays and traveling were cut down. This led to fewer training days and games throughout the season overall.
For Confederation College in Thunder Bay, a school still studying predominantly remotely, there was a decline of athletes when tryouts began. Thunderhawks cross country running team head coach Paul Inkila provides workouts that accommodate his team's situations.
"Because many team members were not on campus as much as usual, attendance at practices was slightly down. But athletes are given the workout schedule and do the work on their own if they cannot attend," said Inkila. "It did affect the overall team atmosphere somewhat, as it was rare to have full practice attendance."
The two-year-long absence of varsity sports comes with its own hardship. Witnessing the graduation of many students who may have wished to play more seasons and who had intentions of joining a team when applying to their colleges.
"My heart goes out to some of those athletes who were coming off of a really good season — that 2019/2020 season — and looking forward to working on some of those things over the off-season and never got a chance to work on it, much less put it into action for that season. And then they've graduated," said Naomi Mullings, head coach for the Centennial Colts women's basketball team.
"Women's basketball is definitely going through a time where we need to help keep our female basketball players playing, and I think in some cases we're doing a really good job and keeping them playing, but we're seeing at the younger age that they're just not playing basketball as much or for as long," Mullings said.

This is Mullings' first year as head coach for Centennial and she voiced her desire for a full roster of 14. Currently, the team contains eight players. Having less than half of a full roster leaves the Colts with little wiggle room for injuries and substitution if they were to enter the season as is. Likewise, playing out a typical five-v-five-match during practice is out of their capabilities unless coaches fill the gaps. Mullings said this slightly hindered some of the Colts.
COVID-19 and its accompanying restrictions surely were unique curveballs for Mullings but are an adjustment nonetheless. After all, making adjustments is what she has been doing for 20 years as a coach.

"I think you have to stay positive," she said.
"We just went through the first pandemic in our lifetime … So if I can instill a positive mindset through basketball, then let's do that. If you can have a positive mindset, playing basketball with all the ups and downs and ebbs and flows of basketball games, then you should be able to take that to regular everyday life."