Around the 1950s, surfers in California wanted something to do when the waves were flat. They created skateboarding, which allowed them to keep practicing. It grew in popularity in the United States and peaked three years after its creation, according to Slick Willie's website.
The site also said that in 1965 the sport suffered a hard crash and was seen as a fad that ran its course. The invention of urethane gave skateboarding a much-needed boost. The replacement of old-fashioned wheels made it possible to skate on bumpy roads. Within a couple of years, skateboarding began to make a mark worldwide.
According to Slick Willie's, teenagers were the first with a desire for skateboards. Pop-up shops were the holy grail, as they sold skateboards to aspiring skaters. Having skateboards wasn't the problem; the lack of places to skate was. For example, skateparks were scarce in the U.K.
The launch of the X Games by ESPN in 1995 was the first big event that brought skateboarding and other extreme sports together. The competition put the glory on many events including Skateboard Street and Skateboard Vert.
The original Tony Hawks' Pro Skater videogame was released four years after the X Games and the popularity of skateboarding continued to grow.
Last summer skateboarding made its official debut at the 2020 Tokyo Olympics with street and park categories. The youngest competitor, Sky Brown, was 13 years old. The Olympic stage increased skateboarding's popularity, but it also inspired a lot of children and youths to have the same dream of competing on the Olympic stage, ushering in a new generation of skaters.
Sophie Grant, a 22-year-old athlete on Canada's national skateboarding team was surprised, but excited to hear that skateboarding would be in the Olympics. She's been skating for six years, as she started when she was 16 years old.
"When I heard it, it came as a huge surprise to everybody," Grant said. "Because as skaters, we're so used to it being basically against the law. So, to have your craft go from being against the law to this sport that's held on a pedestal at a high-class world level, I couldn't fathom it being at the Olympics."
Grant found that the Olympics offer a whole new window of opportunities for skateboarding itself and the skate community. To be on the team, she went to skateboarding contests throughout the entire year and was competing for the top spots. The Canadian nationals were held at CJ's Skatepark in Mississauga, and she placed second.
"That's the day that I knew that I had ranked high enough," Grant said. "That day, there were a lot of tears, and I was calling my family. It was a super happy portion of my life, for sure. I don't think I'll ever forget that."
As she reached higher levels, Grant obtained sponsors and realized that skateboarding can be something to pursue full time.
"I just want to shout out Vans, Empire, London Skating Coop, SkateLoft, Zero Skateboard and Canada Skateboard," Grant said.
Despite the sport reaching such a high pedestal, Grant felt that the original skate culture was being tarnished because of the Olympics, and that there's a lot that is still missed.
"It's like the rawness and the realness of what skateboarding really is kind of gets taken away," Grant said. "There's [sic] so many street skaters and there's so much versatility within skating that I don't think it's really hurting it or helping it."
Stephanie Battieste, a Toronto-based skateboarder and founder of Babes Brigade watched the skateboarding event at the Olympics and was emotionally moved by what she saw.
Battieste, now 35 years old, started skateboarding when she was 15 and found a skateboard in her garage that belonged to one of her three brothers who didn't skate.
"When I was younger, I was pretty shy and a bit of a loner," she said. "I picked it up one day because it was something I could do on my own. I kind of fell in love with it."
Battieste noted that skateboarding allowed her to become a more outgoing person today. When she first started going to skateparks, she wasn't afraid to go, despite being the only female skater.
"I kind of just didn't give a crap," she said. "So, I would just go."
Battieste grew up with three brothers, which made her comfortable around the opposite sex. She never felt uncomfortable skating with men, but she wanted to skate with other women.
However, Battieste knew that for many women, going to a skatepark was intimidating because it was an unknown male-dominated territory. She started seeing more girls at skateparks around Toronto and wanted to find a way to connect with them. In 2015, she started the Babes Brigade which took the edge off.
"I just had a random idea, like a sort of Facebook page and used that page to just let other women know 'Hey, I'm going to be at the skatepark today if you guys want to come out,'" Battieste said.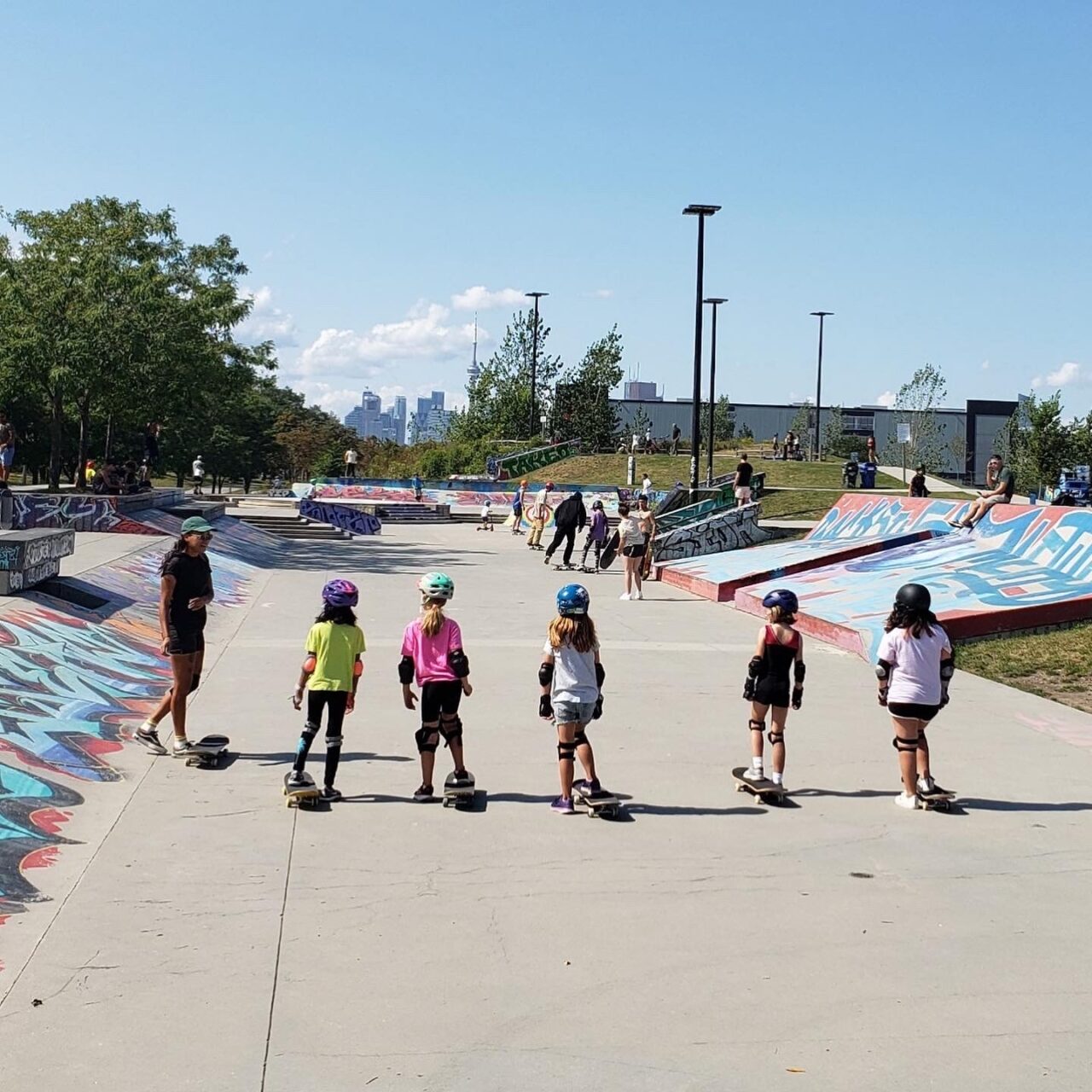 After the initial callout, it continued to grow.
Skateboarding found a new generation to carry the sport to new heights. Tokyo won't be the last time it's on the Olympic stage, as it will take the stage again in 2024 for the Paris Olympics.
In the meantime, it's time to get used to seeing more young people skate.
Yash Presswalla, the executive director of Impact Skate Club in Toronto, knows that when it comes to younger people starting to skate, they can use someone to look up to that can help them get the basics down, and that's Impact Skate Club's specialty.
Presswalla didn't get started skateboarding until he was in high school and found there weren't proper skate parks in Toronto, let alone skate programs. He loved skateboarding after being introduced to the sport. However, the environment he frequented wasn't the healthiest. He wanted to change that.
"The adults in my life were not healthy role models," he said. "So, when I see kids [who] love skateboarding now, especially to our program, I like seeing that they do have healthy role models around and that when things come up there are healthy role models and adults around to actually care about these kids and help them develop the skills they need to cope with."
Impact Skate Club is a non-profit for children and youth, and it uses skateboarding as a vehicle to develop broader skills like self-esteem, social skills, community stewardship and interpersonal skills.
"We also think it's really important to make sure that people have an opportunity to experience skateboarding and our skateboard program," Presswalla said. "So, we do that by trying to make sure that we eliminate as many barriers as possible to participation. One of them being financial, like a lot of people can't necessarily afford programs or lessons or even equipment for their kids."
Jake Borchenko, an instructor with Impact Skate Club, has been skateboarding for 20 years. He remembered vividly his exposure to skateboarding when he was a kid through his neighbour.
"I was like five, I saw him rolling down the street straight at a garbage can, and I was like 'oh my God, he's gonna hit that garbage can,' and my five-year-old brain couldn't process what was going to happen and he jumped over it," Borchenko said. "Five-year-old Jake was hooked from that point on."
Through Impact Skate Club, Borchenko has seen first-hand the progress that children make in the programs they offer, and it often reminds him of himself when he was first learning.
"Sometimes, they've never even stepped on a skateboard, and after a week they can do a bunch of ramps and they're pretty comfortable," Borchenko said. "It's pretty cool to see how quickly kids can progress and then have the same excitement and discovery for how fun it is that I did when I was young."
Skateboarding is in good hands for the next generation to continue carrying the torch. However, with the sport reaching the pinnacle of the Olympics, it begs the question of when it can become a varsity sport under the OCAA.
Evan Pan, a recent graduate of the University of Toronto's Engineering Science program and former president of the UofTSkateClub, initially wasn't as involved in the club and it wasn't very active. The club found more popularity during the pandemic, and it resulted in a change of its management strategy.
"I started going really deep into longboarding and skateboarding," Pan said. "Since I was still managing this group, I tried to call some small unofficial sessions around where I live. I did try to be consistent with it – so every week. After a couple weeks, we got a pretty consistent crowd of people who skateboard."
Pan found that there was a community and started calling more official U of T sessions. He made a weekly plan to promote when and where these sessions would happen, and it drew in huge numbers. Pan started skateboarding to commute after his bike got stolen and found that a skateboard in his possession wouldn't get stolen.
Pan noted that with the growth in skateboarding, his club can benefit from becoming a sport under the OCAA, as it will make the management side of the club much easier.
"The format of a school club – I personally don't think that's the best way of building skate communities," Pan said. "Because students graduate and they go to other places, so that makes it really hard to maintain a community, because basically once you join a community, you have around four years to participate, and then you're gone."
Pan also mentioned that most sports have a designated area to participate, such as basketball and football, but finding a spot for skateboarding is difficult because of the needs that the sport has.
As skateboarding becomes more prominent in communities such as Sault Ste. Marie, Windsor and Thunder Bay, the next step for the sport is its inclusion as a varsity sport. That way, skaters can have a consistent way to participate in the sport and have the place to skate at a higher level.