Technology has brought musical creation to an all-time high using artificial intelligence for an artist's physical being and music itself. This year, AI has shaken identity and traditional business models.
By Megan Rampersaud
Hit one button and BAM! A new artist can be instantly exposed world-wide and solely computerized. FN Meka is an AI artist who was recently removed from a major record label, Capitol Records, after two weeks of being signed in August.
The rapper was removed because a non-profit organization called Industry Blackout released an Instagram statement addressing the racist stereotypes portrayed, derogatory slang used, and further FN Meka's company called, "Factory New", not having any people of diversity on their team. The non-profit organization implied through their message that this is blatant disrespect to people and culture.
What made this situation unique is FN Meka is in fact a virtual rapper, created by an artificial intelligence software. Dr. Mihai is a professor of Machine Learning at Humber college and is currently developing new courses for Humber's AI ready certificate starting in January 2023.
Mihai conceptualizes about how AI driven music is created. "The next time I give you a song you're going to tell me if its relaxing or active category, that's one case, the second case is I'm giving you all this data, try to produce something new," Mihai says.
"The sound is a lot of ups and downs in the frequencies so what they can do is modify the signal frequencies at one moment and maybe make it higher than originally in the data, so they can make any type of combination in the end," he says. This would indicate that AI can innovate new frequencies and sounds from the established musical genres. For example, a new song on the radio that sounds odd, yet new, and familiar at the same time.
Technological music is then paired with a virtual human called Digital Human Model (DHM), creating an AI artist ready for a record labels marketing requirements without negotiation. Dr. Mihai says that "right now, I think people are just using computers for – I know the principle behind it but I don't care how to do it. There is no math reasoning why two plus two is four. They just know it. That will happen with the music."
Although, removing humans more and more may have its cons the opportunities now available are rapidly advancing technological art in the music industry.
Justin Gray is a Montreal born songwriter, producer, and founder of an AI licensing engine software company created in 2014 called Songistry. Songistry provides a platform for producers and songwriters to showcase their work for licensing opportunities according to Songistry's website, "We Are MDIIO."
This AI platform links to the music industry by helping shine a light on the up-and-coming talented artists, elevating their independent brand name, providing professional licensing, and professional exposure. "Just this week I had found out that a song I had wrote and produced is the eighth most Shazamed song in the world because it's in a movie called Hocus Pocus 2," Gray says. "I don't know if you've watched it but it's a song called Skeleton Sam and it's a silly song that I have with a project that I do called Lovecraft," he says.
This collaboration can be profitable for artists, contributing to analytical streams and exposure for an artist's songs.
Zach McMahon is the Chief Executive Officer and a Co-Founders of the company LUCID in Toronto. LUCID offers music derived from AI and neuroscience for therapeutic purposes, according to its website. There can be opportunities for therapeutic music to be linked with the music industry. For listeners this provides relatability and mental health support. For companies this provides streaming revenue with this specific genre and exposure.
"Technology one decade or the next decade will be to bundle everything, that's where you've got labels who are investors slash marketers slash branders," McMahon says.
"But over time these things get unbundled, so does AI allow the individual artists to do more things themselves and unbundle the need for a big label or a manager, I'm not quite sure" he says.
From Montreal, Stephane Moraille was the former singer for the Canadian band called, Bran Van 3000. Moraille is the main vocals in the classic hit song called, "Drinking in L.A.". Now a music and entertainment lawyer, she works with the industries contractual agreements and expresses her opinion about artificial intelligence.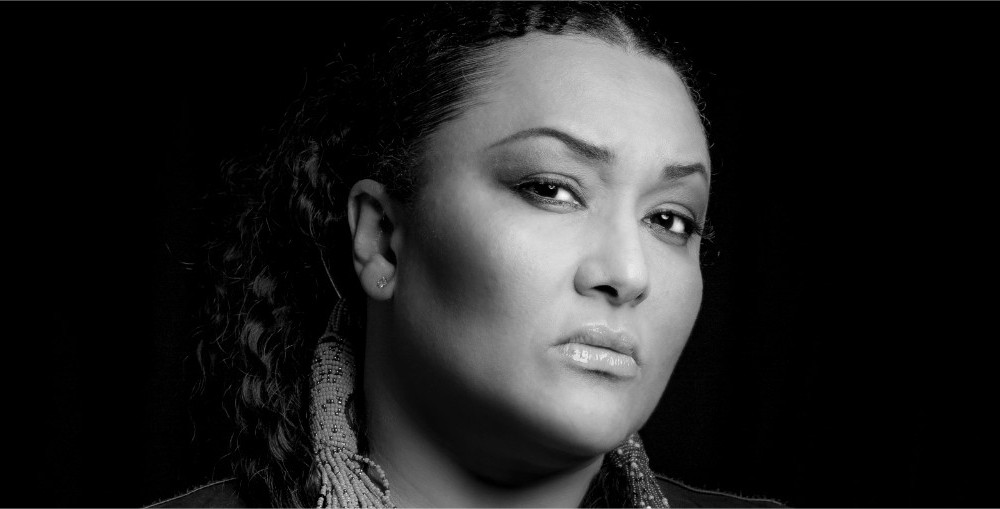 Moraille talks about the benefits of adapting to artificial technology used. "It's also a wonderful thing because someone who creates can use technology to investigate, research, what they want. It's almost limitless. You can find your niche market and for an amazing storyteller AI can be your tool," she says.
However, removing people in entertainment and music marketing departments is one thing but to slowly eliminate engineers, producers, and even the artist themselves is another.
Moraille discusses how AI can present hurdles for artists by cause legality issues. For example, she speaks about how AI can be used to promote an existing human artists' work, through an example about Dr. Dre and Eminem.
In an article from Michigan's newspaper called, "Dr. Dre tied to Eminem lawsuit against Facebook: complaint says plaintiffs irreparably harmed," written by Erin Lacy reads that Facebook was sued by Eminem's management team for falsely alleging that Dr. Dre produced the hit song, "Under the Influence" in a commercial Facebook created. This song was produced by Eminem and the Bass Brothers from Detroit, according to Genius.com. Therefore, the algorithmic company Facebook wrongfully promoted Eminem's song.
"It's always the same thing you encounter, there's a set of rights and then those rights are flown through people who hold most of the power through contractual agreements," Moraille says. "But what is this going to mean for the expectation of music," she says.
Imagine if AI was used to replicate someone else's work physically and musically without them knowing, at first.
"That's the name of the game is to be a very efficient representative but a very good business partner because we're all in the same ecosystem," says Moraille.
Moraille explains that although there are pros and cons to AI becoming a part of the industry, she feels that she cannot predict what will happen in the future and isn't quite sure what will be next.
"It's coming with the metaverse, its coming with the new advances, and how a real artist are going to defend in terms of receiving master and publishing royalties, I'm not sure because an AI derived artist doesn't get tired or stay on tour forever, doesn't have an opinion on what kind of music they should be creating, or hire a lawyer to contest their agreement," she says.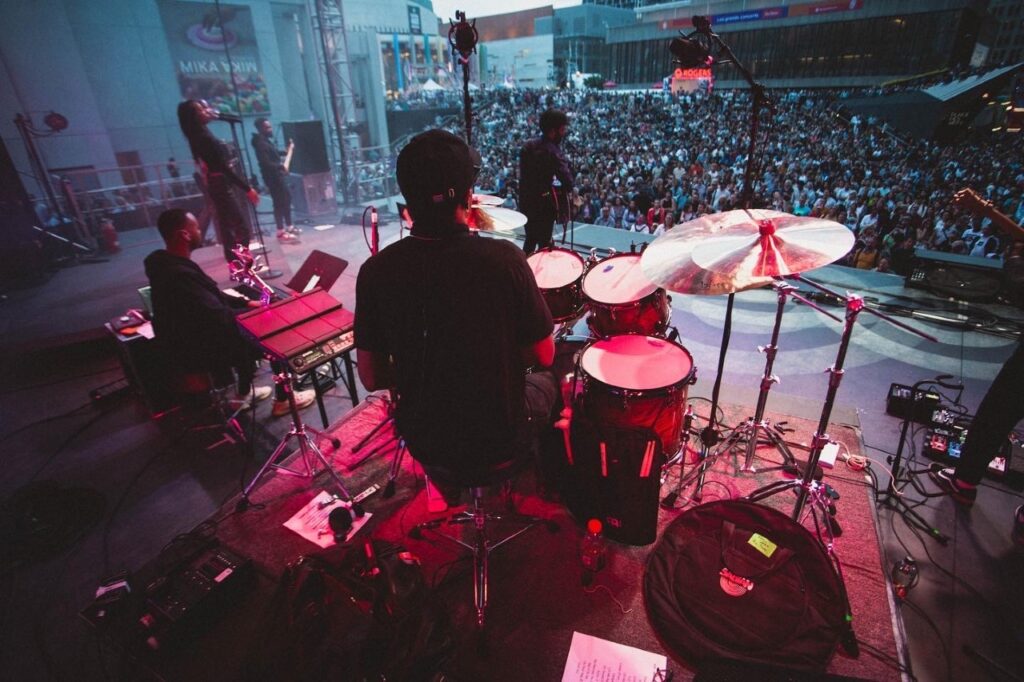 Graduate from the Bachelor of Music program at Humber college in 2018, Isaiah Gibbons pounders in thought about artificial intelligence as a full-time musician who has worked with AI production, a producer, and the owner of West End Studios in Toronto.
"Tik Tok has become a big thing where if your song goes viral, you're gunna end up on the Billboard charts and make money from that but it's hard for artists to continue to be themselves and try to not to think if you don't make it on streaming numbers, you're a bad artist," he says.
The waters are being tested between AI programs and humans to see who creates the newest innovative sounds and successful artists first. However, true emotion and human connection can't be replaced, replicated, or timed.
"You know once you see your favorite artists live in person, you will feel that," Gibbons says. "I might be biased but I play music and just from seeing other people and seeing the crowd, they're not going to get that same theory," he says.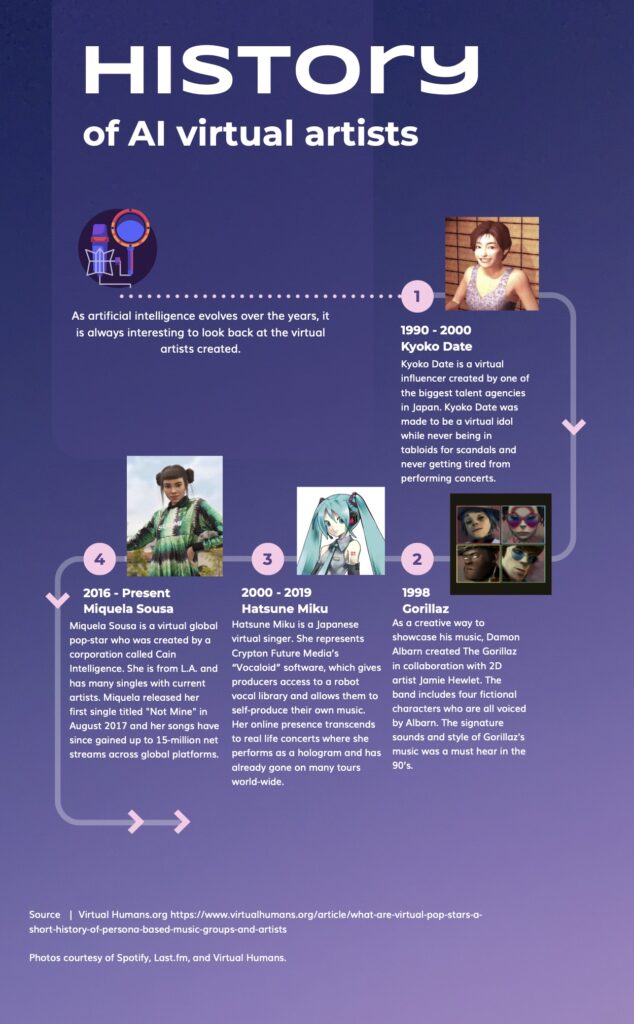 The unifying quality of music is human representation for many beliefs and lifestyles. Artificial intelligence might alter the authenticity of that representation by portraying a culture in a harmful and derogatory way in the future.
Partial reasoning as to why FK Meka may have gotten signed to Capital Records is because music labels are adapting to the digital era and want higher success rates, rather than negotiating with a human.
This begs the question, what does this mean for the future of human representation?
"The AI advantages are clear, they will offer more opportunities and more pathways to innovation, but the human talent will be lost, says Dr. Mihai. "It can sound good, but it has no feeling," he says.