Pointing the lens at our Film and TV students
Devout Following
Amelia Wilder has been a storyteller since childhood.
"I had a really tough childhood, I would be left alone a lot and film and television got me through that, and were making me feel good at a time I'd be alone by myself. So [to] fill that emptiness, it kept me moving and it inspired me to just create stories throughout my life," Wilder says.
Scriptwriting and producing are where Wilder knew she wanted to be and it's all thanks to her trusty inner creative.
"I knew I wanted to scriptwrite, to be able to create something from nothing — I have like this camera in my head all the time that's always running, everywhere I go, everywhere I look I can create a scene and so I want to be a scriptwriter. I also want to be a producer," Wilder says.
Willy Wonka and the Chocolate Factory stands out as a particular inspiration that stayed within Wilder's mind. The words to all the songs in the movie are still fresh in her mind.
"I have to say Willy Wonka and the Chocolate Factory, the one from 1971. The script is just different. At that time it was probably one of the most magical things you could see on the screen. Even beyond 50 years later it's still one of the most iconic films people remember," she says.
As far as her work within this semester, Wilder has taken the role of producer on an investigative documentary called 'Devout Following'. It's a deep dive into social media becoming a quasi-religion. A role that's taught her quite a lot.
"You're all over the place but you have to be organised at the same time. For some reason, even though it's stressful, there's a lot to do all the time," Wilder says. "You're overseeing the entire project. I enjoy it. It just puts all my traits I have, like grit, resilience, reliability into play more. So it feels like this role is kind of for me."
As far as the future, Wilder has a few dreams tucked under her sleeve she hopes to accomplish.
"I really hope I'm involved in a writing team in some way or another. Also maybe having a green light to carry on with a television series that I'm currently working on."
Not Just Words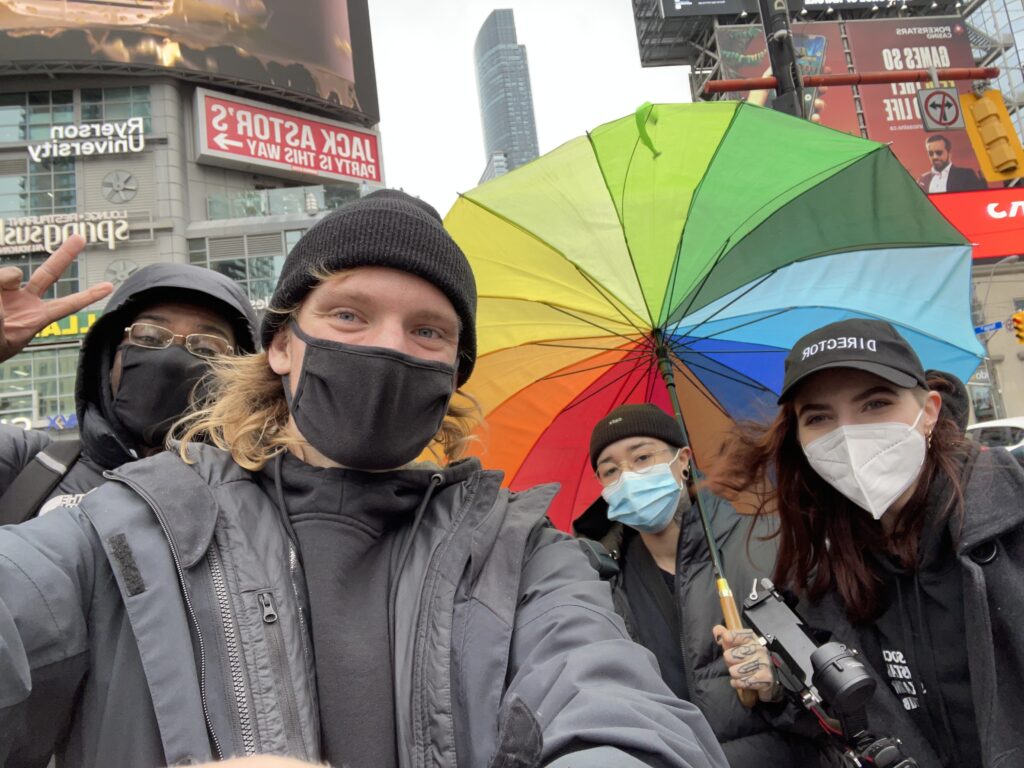 Stanford Gough, currently producer of a second-year film and television production documentary called "Not Just Words," was motivated to study film production because of the outlet of self-expression film provided.
"As a medium, film is such a fascinating mirror that you can hold up to so many different people in so many different ways. Of course, filmmaking being such a collaborative process is a huge reason I want to work in the industry. Groups of people coming together with a common goal in mind is such a beautiful thing that always brings something new to each group member's life," he says.
The documentary "Not Just Words" is a documentary short about linguistics (the study of language), communication, accents and the biases both conscious and unconscious that people can hold against those who speak with a different accent than their own.
"It's all told through a very Canadian and Torontonian lens and contains interviews that are equal parts informative, interesting and emotional," Gough says.
As far as motivations to take on the project Gough points to director Stephanie Cowan's knowledge and passion on the subject matter as the driving force.
"To me, the best documentaries shed light on or give a voice to underrepresented subjects and the issues of bias the documentary covers are really pervasive in our society and the director's pitch really opened my eyes to that," Gough says. "Taking on this project has really expanded my mind, not just from a filmmaking perspective, but I've also learned so much about the way I communicate with my neighbours in this city and beyond."
The future is one Gough hopes to be of comfort for those who interact with his art, a comfort that he hopes to bring while staying here in Canada, to give back to his home.
"I would love to be creating art that helps people of all ages all over the world to feel safe and comfortable being themselves. I would like to stay in Canada and contribute to the communities that raised me and I would like to promote inclusivity and love both within the film industry and through the films I work on," Gough says.
More than a Disorder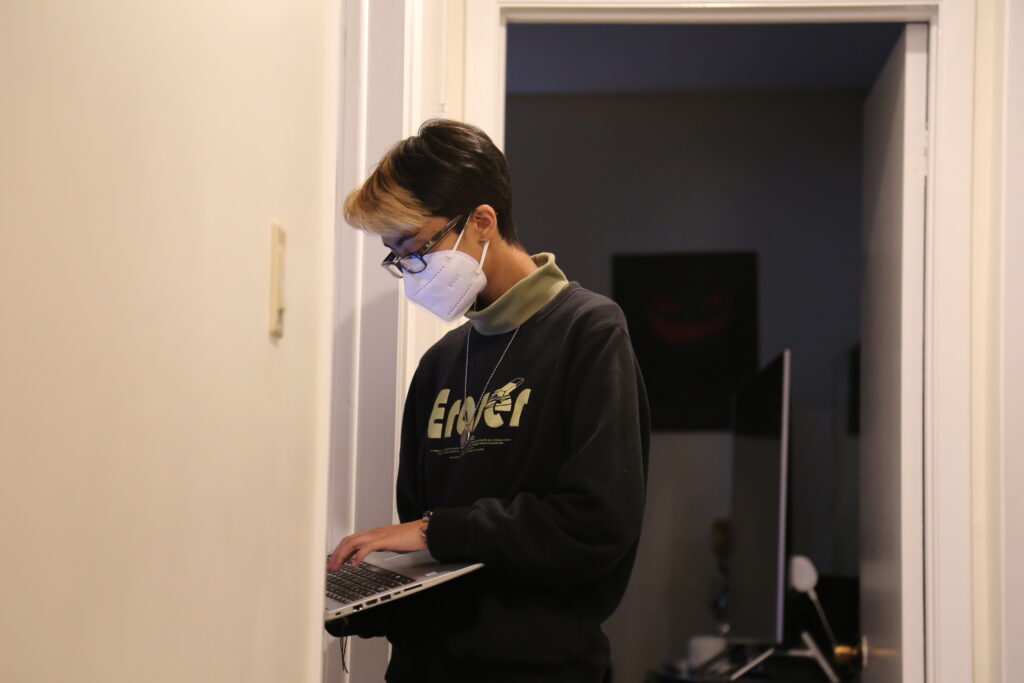 "I definitely loved movies as a kid," Tom-Yew says.
"When I was a kid, I would make little videos of my friends and stuff but it was really communication technology class in high school that made me realize I really loved script writing, camera operation and directing," he says.
"I also did theatre in high school so I really like tech construction and making a space become something else. Those things combined made me realize film production is where I want to be."
Compared to his experience in first-year, Tom-Yew sees a distinct difference in the program.
"I had no idea what was coming because everything's moved so fast this semester. Like we have the doc project, basically, the entirety of the semester and then we've even started what we're doing next semester. So it's just constant work, but I really love it so it doesn't always feel like work," he says.
Tom-Yew got into film production with the idea of trying as many hats as possible.
As far as his role within the industry the directions he could go are endless, his most current role is that of producer.
"Right now, I realise I have some talent in producing. So that's definitely something I'm going to be practising more, I think it could be a career for me. But also design, art directing and script writing," Tom-Yew says.
There is one role he hesitantly looks at but with an element of youthful meekness — he doesn't allow him to say it.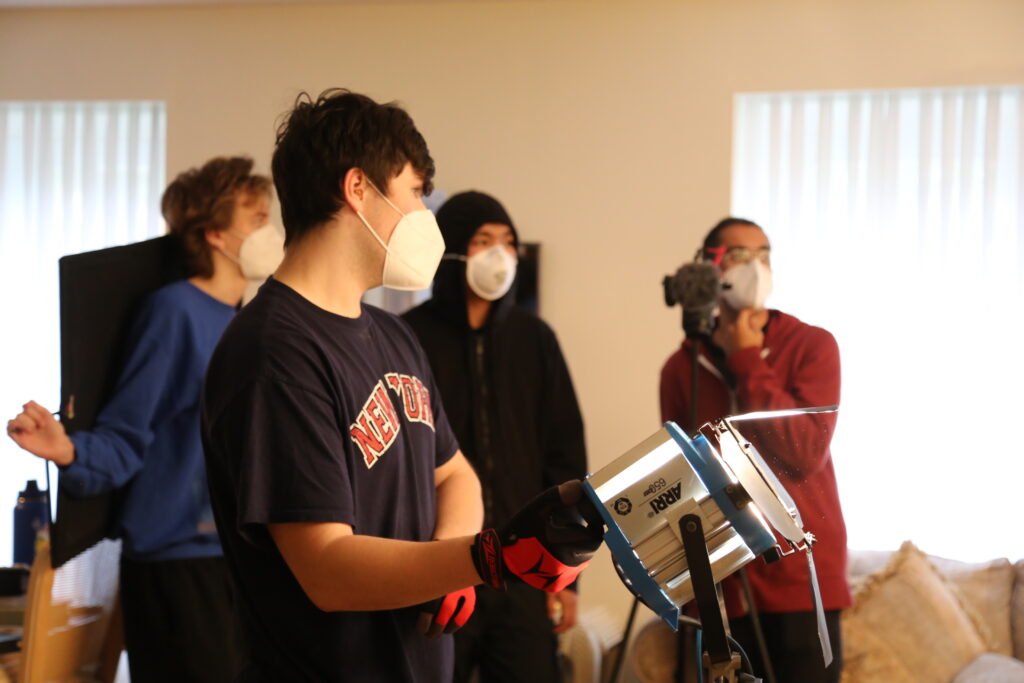 "Directing, that's the big title, you know, director."
As far as the project he's producing, it focuses on a married couple — Jennifer and Shawn — who struggled with eating disorders and are in recovery.
"Jennifer has suffered from anorexia nervosa and Shawn suffered from binge eating disorder," Tom-Yew says. "So two very different eating disorders."
There was a lot of detail given to sensitivity and respect.
"That was one of our biggest challenges in pre-production, like in terms of story development, was making sure that we get the information that we need and the information that needs to be said, while also still being completely mindful of the fact that these are very recent events for Jennifer and Shawn."