By Daniel Lonic
Interviewing is the bread and butter of journalism; it is one of the first steps a journalist embarks on when beginning an article. Without sources, news articles are not much more than glorified research papers or cold press releases. Interviews provide authenticity, insight and emotion to stories — offering readers substance that entices them to continue reading. A new policy implemented at Humber College bottlenecks young aspiring journalists from doing this very thing.
The temporary use of space for events policy (TUSE) was implemented at Humber in January 2019 as part of the legislation from the governing Progressive Conservatives, making it mandatory for all Ontario post-secondary schools to have some sort of free-speech policy. While all colleges created a shared policy, its direction differentiated within each respective school.
Applying to all Humber faculty, students, and staff, the policy requires an application be filed if one wishes to occupy a space.
Applicants must direct their TUSE requests to the specific department that oversees the space a minimum of 15 business days prior — to which they have the right to confirm or deny.
While this arrangement was formed three years prior, it was not a process journalism students were familiar with at the outset of its implementation. During the proceeding lockdown and relocation to remote learning, the TUSE policy was briefly suspended between August-July 2020 due to an absence of on-campus activity.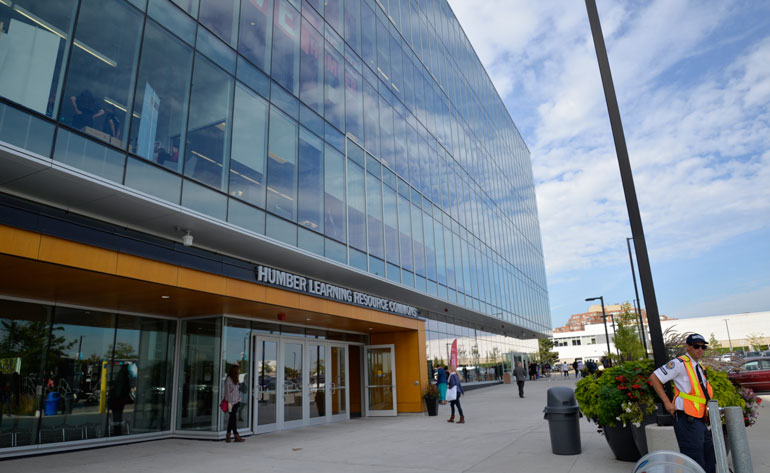 Guillermo Acosta, the senior dean for the Faculty of Media and Creative Arts at Humber North, spoke to a Humber journalism student and stated the introduction of COVID-19 shifted the purpose of the TUSE policy. Now additionally being enforced as a safeguard against a potential outbreak, "so things have blurred a little bit," he admits in an interview for Et Cetera on Nov. 18.
Acosta acknowledges the obstacles this policy has generated for journalism students being unable to report on campus breaking news and produce stories on a weekly schedule.
"I'm glad that the students and faculty are bringing these types of things up because there are ways to solve it. As inconvenient as it has been for some students or faculty, I know that we will be able to deal with this and find a middle-ground that will allow us to do our work and will guarantee that the community continues to be protected," Acosta said.
Journalists first understood the implications of this policy when a student attempted to film in the athletics department for an assignment the week of Oct. 31. He was told that to do so, he had to fill out paperwork to have access to the gym. This came as a shock, even to his professors.
"One line that did stick by me was that it's just because we need to know you are who you say you are, and not just anyone who's coming in and saying that they want to do an interview," said third-year journalism student Manan Nijhawan in an interview for Humber Et Cetera on Nov. 18.
Aspiring to be a sports reporter and having yet to cover a story on varsity activity at Humber, this news was discouraging.
"The men's soccer team, they won the OCAA championship last week. They are champions again. As a journalist, as someone who wants to cover sports, who wants to do sports journalism ⁠— That was my first golden story," he said.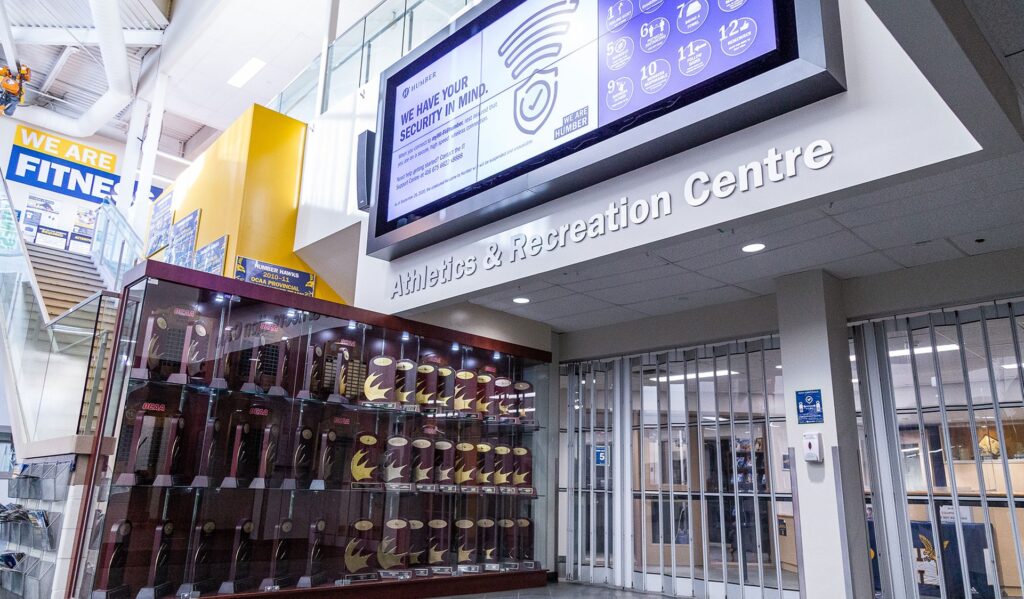 Acosta said he is a big advocate of Humber's journalism program. Taking upon himself to contact the principal of Humber's Lakeshore campus to arrange a meeting with the executive team to discuss possible flexibility to the policy.
"I'm asking for the review of this specific situation and then see how we can land in a place in which we all feel comfortable," he said.
Lakeshore Principal June MacDonald-Jenkins recognized that campuses need to be a "real, actual environment where spontaneous learning can occur," in an interview for Et Cetera on Nov. 6.
Christopher Waddell is a professor emeritus for the journalism program at Carleton University. He was a member of the faculty for 20 years before his retirement in June 2020. Waddell believes the TUSE policy to be a "solution looking for a problem."
"A big part of journalism is speaking to people that you've never met before. And talking to them and finding out who they are, what their interests are, and being able to interview them in an intelligent fashion that produces a good story. And so if you're doing things to prevent that from happening, you are really as the university administration, or school administration, working against the interests of your own students," he said.
Not only does Waddell consider the school's policy to be a hindrance to its own students but a case of self-sabotaging.
By restricting the prominence of interviews that can be conducted on campus, it limits the student media from publishing articles about any positive Humber news that would be published.
"As a rule, to get permission to be able to interview anyone on campus is overly strict and authoritarian," Waddell.
"I'm surprised knowing that Humber has a history of both journalism programs, both in the college and also the Humber wealth program. I'm surprised that they would have implemented this without thinking about the fact they have journalism students and a journalism program.
"A lot of times, you're not going to necessarily get your stories from the people who are directly involved, you'll get it from people that are on the periphery," McNaughton said. It might be from the mayor, councillors or city staff that share a scoop but it could also come from political activists or concerned community members.
Reporters can also look to journalism from outside their beat or region — and localize a scoop. The Washington Post reported a story about a tech company that did back-end systems management that was hacked by the Russian government. McNaughton noticed the story and localized it by contacting the technical support staff at the city hall and managed to get an exclusive on reporting that the city hall's technical department used the same software.
When it comes to covering politics at the provincial level, Mitchell Thompson of Press Progress looks for a scoop in the publicly available documents and finds stories there that other newsrooms may have missed.
"In a lot of cases, we tend to get our story ideas from… primary source documents, and that comes down to knowing the kind of technical language of your area," explained Thompson. Sometimes these types of documents can be sitting in email inboxes and all it takes is knowing the right person for the story to come to light.
"One of our big scoops this year was a plan for the Ministry of Education. This was distributed to the school boards that they were going to cut over $1.6 billion for the schools," Thompson said. "That was lurking in the inboxes of union officials and school board officials and principals for a long time." Once he was able to get a hold of a document it got turned around into a headline that made an impact on people's lives.
The scoop can change history. It became worldwide news in 2013 that the mayor of Canada's largest city smoked crack cocaine. It was a story broken by the Toronto Star. In October 2017, The New York Times broke the story of Harvey Weinstein's years of sexual abuse towards women, sparking the cultural phenomenon known as the #MeToo movement that led to the firing of over 200 powerful men that abused their positions. Time Magazine during September 2019 broke the news Prime Minister Justin Trudeau had worn "brownface" to an Arabian-themed gala 18 years earlier, changing the tone for a national election and potentially impacting its outcome.
Whether a reporter patiently builds up their relationships, finds documents through freedom of information requests and those that are publicly released, or just being in the right spot at the right time, anyone with enough drive can start finding the scoops they're looking for.